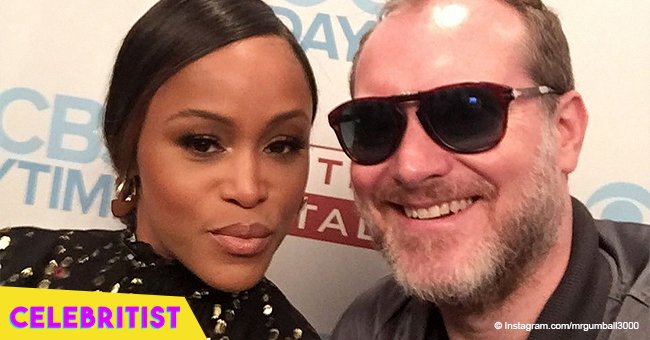 Eve shares picture of her millionaire husband dressed in a traditional Japanese kimono
Rapper and "The Talk" co-host, Eve, recently melted hearts after sharing a photo of her multimillionaire husband rocking a kimono at the auction ceremony of the Gumball 3000 rally. The event raised over £300,000.
Eve and her English husband, Maximillion Cooper, recently their 4th wedding anniversary. The couple went on a romantic tropical getaway in between preparation for this years' Gumball 3000 rally, the event created by Cooper that combines speed races, expensive cars, and renowned superstars like David Hasselhoff and UK-based rapper Wretch 32.
This year, the career took the racers from London to Tokyo through Italy, where the cars were airlifted in two airplanes to the Nippon country. At one of the closing ceremonies of the event, which included an auction to support the Gumball 3000 Foundation, Cooper took the mic and his wife documented the moment on her Instagram.
Eve shared a photo of Cooper donning a black and white traditional kimono while he talked to the crow in a traditional Japanese salon. She captioned the pic:
"@mrgumball3000 looking handsome in traditional #kimono during the @gumball3000foundation #auction tonight #londontotokyo #gumball3000rally."
Fans immediately took to the comment section to share their thoughts about the photo. One user wrote "I love how you support your Husband. Straight Love between you two!" another added, "He's rocking the hell out if that kimono."
Eve and Maximillion have become each other's rocks after almost eight years together since they started dating in 2010 and tied the knot officially in 2014. The beautiful 39-year-old star recently confessed that before meeting Cooper, she thought she would never get married.
"I kind of was like, 'I guess I'm never going to get married,'" she revealed on "The Talk" on July 5. "My mother even said to me once, 'Well, not everyone is meant to get married,' and I was like, 'OK cool, I guess I'll just be dating for the rest of my life.'"
However, after meeting Cooper, she changed her perspective. She revealed:
"I've never been in a relationship with a man in this way, and I always say it's my grown-up relationship. We just love each other and support each other, and I've never had that before, and I can't wait to have a baby so that I can feel that love."
The couple is still in Japan, enjoying the last days of the Gumball 3000 rally.
Please fill in your e-mail so we can share with you our top stories!