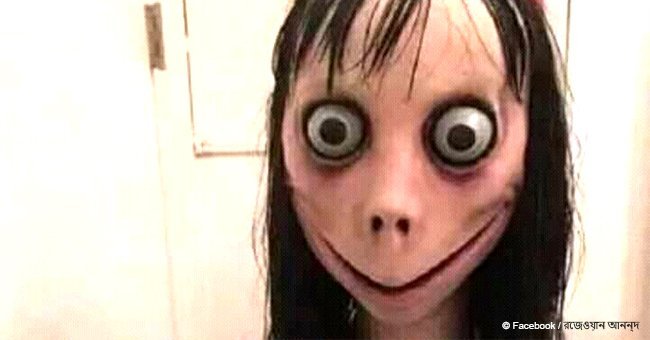 Warning to parents about new internet challenge on social media

One 12-year-old has taken her life in what is thought to be a result of the 'Momo Challenge.' Police across the world are now warning parents against arguably the most dangerous internet challenge going around.
In the Argentinian town called Ingeniero Maschwitz, the young girl may be the first victim of this alarming game. She recorded herself not long before her parents discovered the devastating act. The Buenos Aires Times reports that police are still verifying the link.
The game is recognizable from the image of a woman wearing a disturbing smile amid ghastly features and long, wiry black hair. This character reportedly originated in Japan where artist Midori Hayashi created it for an exhibit. He has said that he has nothing to do with the challenge itself.
Spread on WhatsApp and Facebook, users encourage a "Momo" to reach out to them. They then go on to receive numerous disturbing calls and messages as a result. This escalates to a series of harassing texts and encouragement of self-harm. Due to the ability for several users to act as "Momo," as well as collect personal information based on the users' phone number, the whole challenge feels like a nightmare to victims. The challenge reveals that a disturbing number of deranged individuals are not just willing, but set on bullying others to do the unthinkable.
Follow us on Twitter for more @amomama_usa
Shane Andrews, a YouTube vlogger whose channel seeks to "expose the truth, and uncovers the internet's greatest mysteries," tried the game himself.
He says:
"I was met with some very violent images and text messages that I cannot show. The messages were scary. They said that they knew personal things about me which they couldn't possibly know."
Shane further details:
"They want you to do small tasks, like wake up at odd hours, overcome a fear. Then it escalates quickly ... [to challenges] like jumping off a house and ending your life. You're supposed to document these things [on] video."
He accurately describes what is all part of a parent's worst fears for their child. He says
"The scariest thing about this is the ease of access. Children can easily download the app, can easily be on Facebook. All they have to [do is] hear about it and say, 'I am going to do that,' and say, 'That's not a big deal' and then be sucked in by the psychological push and pull of the method."
The video below describes horrible experiences of victims, and delves into technicalities that lead to the collection of sensitive information used by "Momo"
The dark but real connection kids and young adults get when they are a part of certain dangerous groups which do not properly handle suicidal tendencies can be disastrous for victims, family, and friends. With the lack of privacy that comes with the internet, parents too should be aware of the steps they can take which include taking notice of behavioral changes and monitoring internet usage.
The National Suicide Prevention Lifeline is 1-800-273-8255. Other international suicide helplines can be found at befrienders.org.
Please fill in your e-mail so we can share with you our top stories!