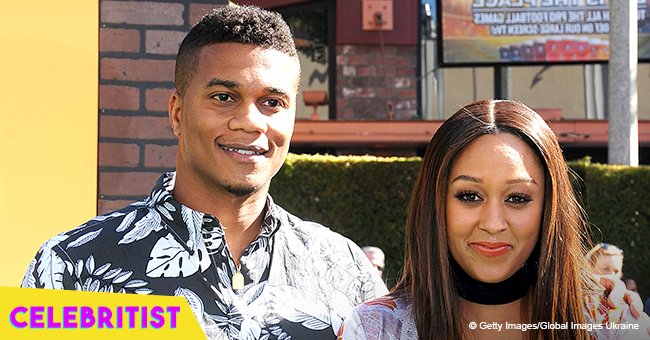 Tia Mowry melts hearts with cute picture of her 'brown sugar'

Tia Mowry continues to dote on her new daughter as she adjusts to life as a mother-of-two in her 40's. She just posted a shirtless photo of her "brown sugar" that's guaranteed to melt her fans' hearts.
Tia Mowry's new daughter is just three months old but she's already a big hit among fans. Little Cairo's photos have been delighting the reality star's Instagram followers since day one and every photo her mother posts of her is a source of joy. The latest photo of her little girl is no exception.
Tia has been very open about the changes she's had to adjust to as a 40-year-old new mom of a baby girl. The last time she gave birth was seven years ago to her elder son, Cree, she shares with her husband Cory Hardrict.
One of the things Tia is honest about now that she's an older mom is that she has no more time for mess anymore. She told E! News this month,
"I'm just going to be really honest with you. Now that I'm 40, I don't have time for mess anymore. I know what I want. I know what I'm going after. I have a small group of friends because when you're younger, it's all about popularity but that doesn't matter for me now. It's about quality vs. quantity."
She added,
"I feel happy in my skin. I feel confident and I feel like as you get older, you learn more about who you are and you embrace who you are and just go with the flow of life and go with the punches."
Now that she has two children, Tia also reveals her life is moving at a quicker pace as she takes two steps at a time instead of one.
"You know what I'm doing? Usually, I would say with just one kid, I'm taking one day at a time. But with two kids, I'm taking two steps at a time. I'm only looking as far as my two feet can go. I can't get so far ahead of myself or I'll get really, really overwhelmed. But you know what they say? It's harder to go from one to two as opposed to two to three but now I get it."
Since Cairo is Tia's first daughter, the reality star also opened up about the differences between raising a girl as opposed to a boy and she told Us Weekly, that girls are "so much smarter."
"I've got to be careful cause my son's in the other room, but they're [girls] really, really smart. Like, they basically know how to hold a bottle and with talking, like she literally said, 'Hi!' the other day. She's so sweet. She's doing great. It's so much fun. I'm, like, obsessed with putting her in tutus."
A few days ago, Tia doted on her little girl by and shared an adorable photo of her. In it, Cairo is shirtless and lapping up her tiny towel. She was most likely fresh from a bath as her thin hair stuck closely to her head revealing her beautiful face.
"I mean... #brownsugar #cairo Hair laid to the GAWDS!!," her proud mother wrote to caption the adorable snap below.
While Tia enjoys spending time with her daughter, she also makes sure Cree isn't left out of the picture. She encourages bonding moments between brother and sister such as in a photo she shared where Cree feeds his sister. Big brother was obviously delighted to play the part as evident in the excitement registered on his face.
Meanwhile, as Tia takes on her new role as mother-of-two, she now knows it will take her longer to get back in shape and that's okay with her. She intends to take her time realizing there's so much more to devote her attention to than just obsessing about getting her abs back quickly.
Please fill in your e-mail so we can share with you our top stories!