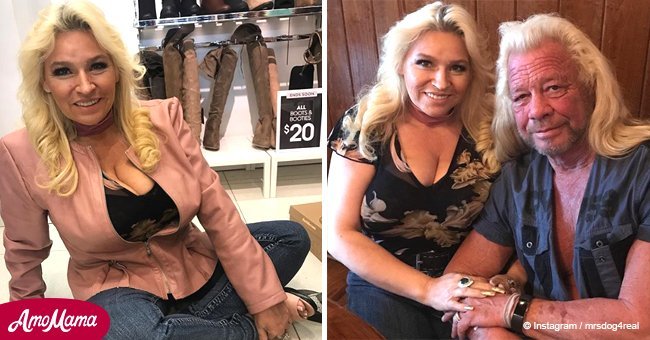 Beth Chapman's 18-year-old daughter Bonnie is a copy of her famous mom
The reality television family stuck with the usual holiday tradition of spending quality family time together for the festive season.
The Chapman family spent the Christmas holidays in 2017 in their native Hawaii and shared snapshots of themselves to their respective social media accounts.
Beth Chapman has an 18-year-old daughter named Bonnie. After Bonnie graduated from high school, she left the island state for colllege in Colorado.
When the first semester ended, the teenager headed back home to spend Christmas with her family.
Beth posted a photo of herself and her daughter in front of a Christmas tree on Christmas Eve to her Facebook account.
Facebook users immediately took notice of how much Bonnie has grown and how she looks a lot like her mother. The fans also praised the duo for looking beautiful in the comments.
Some fans felt that Beth and Bonnie could look more like sisters than like mother and daughter. Others wished the family a wonderful Christmas, and hoped Beth was doing better after her battle with cancer.
Beth wore a black velvet jacket with flared sleeves and matching black pants. She wore a plain black top underneath the jacket, and accessorized with a number of sparkling necklaces.
Bonnie had on a black and pink floral dress, with off-the-shoulder sleeves and a low-cut neckline. She completed the look with a pair of knee-high maroon boots.
Bonnie didn't share photos of her time at home with her family, but the photo of herself and Bonnie is not the only one that Beth shared during the Christmas season.
Fans are used to seeing Beth and her husband, Duane "Dog" Chapman, in photos on Beth's Instagram account, and she didn't disappoint over the holiday, showing off the family's tree in the background of her shots.
Beth also shares photos of her daughter whenever she sees the teen. During the summer holidays this year, she visited Bonnie in Colorado, and shared a lovely photo of her daughter surrounded by a background of pretty flowers.
The close-up shot of the college student shows she has inherited her mother's broad smile and facial structure.
Plenty of Instagram users took to the comments section to gush about how beautiful she is growing up to be.
Please fill in your e-mail so we can share with you our top stories!