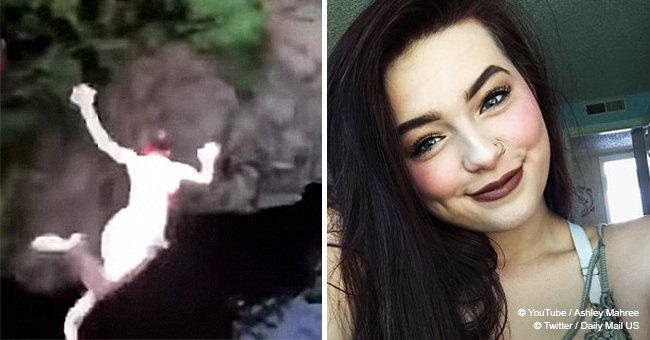 Woman who pushed friend from bridge 'isn't sorry and doesn't care'
Last Tuesday, a teenager named Jordan Holgerson almost lost her life when she was pushed down a bridge. According to sources, her friend had done the deed.
An insider has revealed that Taylor Smith has shown no remorse for her actions. Instead, she was seen going out as if nothing happened.
Last week, Jordan Holgerson, 16, was shoved down into Moulton Falls on the Lewis River in Yacolt, Washington. The person who pushed her was her friend Taylor Smith, 18.
Recent Instagram photos showed Smith partying at Clark County Fair just days after the incident. Sources said she "isn't sorry and doesn't care"
For more on this story go to our Twitter account @amomama_usa. According to The Sun, a source close to the family stated, "Taylor has been going out as if nothing happened."
They also shared that Smith hadn't gone to visit Holgerson and clearly doesn't care. The culprit did, however, message the victim to say sorry but the source said nobody believed the apology was sincere.
Holgerson's aunt Kristie Morgan shared on Friday that the teenager had gone home the previous night and woke up crying in pain in the morning. Morgan revealed that her niece has decided not to seek 'revenge' against the woman who pushed her.
"She has a hard time breathing and it gives her a panic attack which makes it even harder to breathe. She is really suffering physically and emotionally."
Kristie Morgan, Daily Mail, August 13, 2018
She doesn't agree, however, and believes Smith could have killed her and should be in jail right now. Holgerson spoke out from the hospital on Thursday after the shocking footage went viral, saying she could've have died.
According to Morgan, the victim's mother, Genelle, was taking "amazing care of her." Holgerson suffered five cracked ribs, a bruised oesophagus, an injured trachea, air bubbles in her chest, and a punctured lung.
She revealed that she may have 'blacked out' midair, but was aware and awake when she hit the water. Someone immediately swam out to rescue her after she hit the water and she was rushed to PeaceHealth Southwest Washington Medical Center in Vancouver, Washington.
In the video, Holgerson could be seen standing on the 60-foot high ledge with her friends behind her. She refuses to jump twice in the clip while her friends keep pressurizing her.
Suddenly, one man asks if she's "Ready?" before Smith is seen shoving Holgerson off the bridge. The teenager falls into the water below and lands with a horrifying thud as her friends gasped.
Her sister Kaytlin said she confronted Smith on social media and told her a true friend wouldn't have done what she did. She also felt the friend should face consequences for her actions.
Ashley Mahree, the woman who posted the video to YouTube, also said she believed Smith should go to jail. Clark County Fire Chief Ben Peeler confirmed that it was illegal to jump from the bridge.
The Clark County Sheriff's Office is currently investigating the incident. Morgan has set up a GoFundMe page to raise money for her niece's medical expenses.