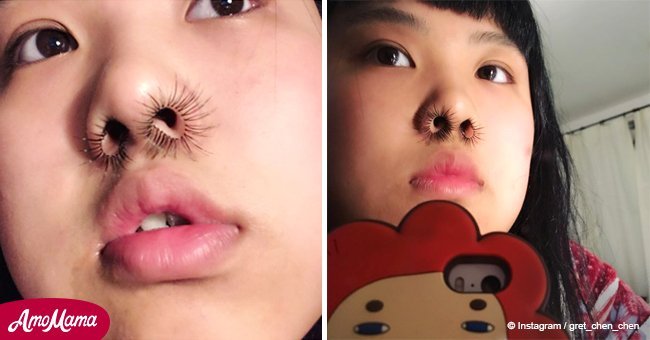 Nose hair extensions are the most bizarre beauty trend
Squiggly eyebrows, teeth nails, and tiger brows are just a few trends that made headlines recently. Nose hair extensions are probably the most eye-opening though.
The resulting look of this trend is what appears to be lengthened nostril hair. To attain the desired effect, eyelash extensions are applied on or within the nostril.
It's up to the individual to decide on their preferred result. The practice has been spread by beauty vloggers and Instagrammers alike.
The trend can be followed using the hashtag #nosehairextensions. Read more on our Twitter account, @amomama_usa.
Despite being on the weirder side of popular beauty trends, it is also unique and inspiring to some.
A few have put it in the same boat as the liberation movement of women towards shamelessly growing and showing their female body hair.
So who came up with the unusual idea?
It was Instagrammer @gret_chen_chen, who already hosts an array of intriguing visuals on her page, that first posted a photo with the overgrown nostril hair.
Less than a week later, Sophie Hanna Richardson picked up the trend with a Facebook video of her applying for the extensions. It garnered over 163,000 views within two days.
It took off again when @iamzoie did a reaction video and racked up over 1.3 million views, making it go viral and obliging numerous news sites to publish about the trend.
After that, many more got on board and shared photos of their nostril extensions on social media.
A few months ago, Halo Brows took the world by storm when Hannah Lyne started the trend on Instagram. She now has an online following of 38,000.
As the fashion industry continues to be heavily influenced by such beauty trends, one can appreciate the variety of ideas that are showing up, whether they are halo brows, lip art, or nose hair extensions.
Please fill in your e-mail so we can share with you our top stories!