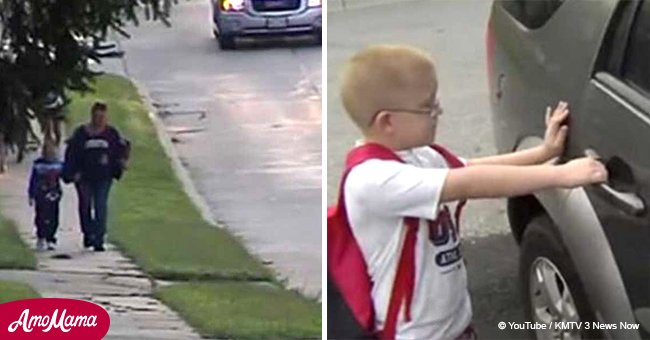 Stranger helps little boy who had to walk four miles to school every day
Kim walked two miles with her son, Gabe Bellus, to his school and back until a stranger volunteered to help them out after watching them on TV.
KMTV 3 News Now on August 31, 2018, shared the mother's woes before help poured in from unexpected quarters.
Everyone knows that a mother will go out of her way to fulfill the demands of her children. Mothers are known to play multiple roles including that of a supporter, protector, guardian and a nurturer.
Read more on our Twitter account @amomama_usa.
The story is about Kim, the mother of young Gabe Bellus. Kim proved to be the Rock of Gibraltar for Gabe during 2015.
She would accompany her son to school, walking every day with him for almost two miles.
Kim was forced to do so to ensure that her son would not miss school. During that time Nebraska state guidelines did not need buses to pick up students who lived within a radius of fewer than four miles from the school.
The mother, herself a full-time college student, did not own any vehicle. The walk, to her son's school and back, took about four hours.
The entire trip was utterly exhausting for Gabe. Kim, on the other hand, said she did not mind the long walk. The weather was warm and the long strolls, according to her, were welcome.
Kim was worried about the walks during the colder season. Walking would be nearly impossible with snow all around the place.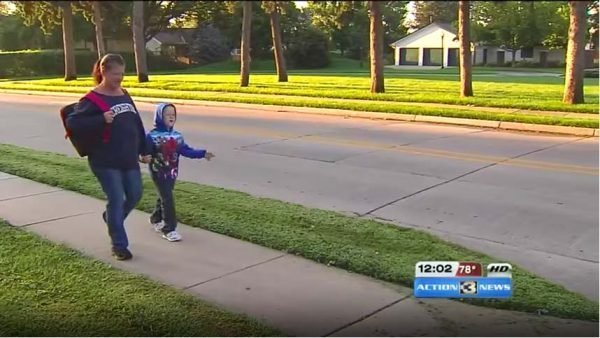 Source: YouTube / KMTV 3 News Now
In an interview to KMTV-TV, Kim said that very soon the walks would be *problematic especially when the winds would be below 30.
A surprising incident took place on the day the story was aired. As usual Kim and Gabe were walking their regular route when a woman, Becky Novotny, recognized the duo.
Novotny immediately pulled over and took them home and promised that she would take Gabe to school every day.
The offer was God sent for both Kim and Gabe. Novotny, a stay-at-home of her three children, was glad to help.
She said that it was a small town and helping hands were always welcome. She also volunteered to drop Gabe to Boy Scouts. Kim added that Novotny was the angel they needed.
Kim also mentioned how she had approached the school authorities, but they were unwilling to help.
Please fill in your e-mail so we can share with you our top stories!