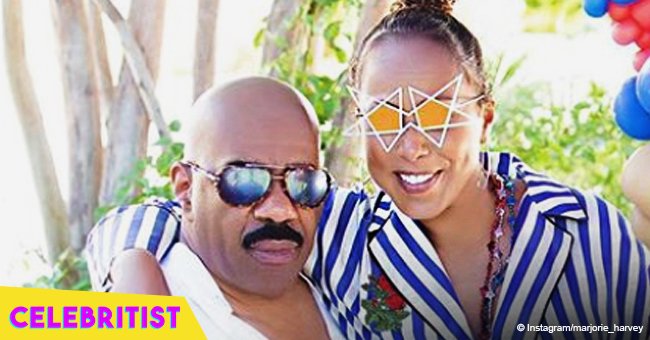 Steve Harvey's wife Marjorie turns heads with 'Queen of Hearts' outfit while in Paris
Marjorie Harvey looks stunning in a Dolce&Gabbana Queen of Hearts outfit as she poses playfully for the camera while in Paris, after spending a lovely vacation with Steve around Italy.
The fashionista went straight from the Amalfi coast, where she enjoyed a few weeks in a romantic getaway with Harvey, to the stylish streets of Paris. Marjorie has been taking the streets of the city by storm to do some photo shoots, and fans can't get enough of her looks.
Two of her recent Instagram posts show the mother of three donning a Dolce & Gabbana jumpsuit with printed queen of hearts cards on it. In one of the pics, Marjorie is sitting in the middle of a marble suite room while rocking a silky robe to complete the look, and in the other, she's making a kissy face and wearing a pair of D&G sunglasses with the same theme.
"Daddy played his cards right," she captioned one of the pics, adding a wink emoji and a heart. Many fans thought the metaphor was hilarious and took to her comment section to praise Marjorie's look.
One user wrote: "Yes he did. Girl you rocking that outfit," and another added, "oh my goodness Mr. Harvey did play his cards right he should've a winner You are killing that outfit, damn girl you are the most beautiful hot sexiest person in the world." [sic]
The 53-year-old married Steve Harvey back in 2007, and a few months ago they celebrated their 11th anniversary amid rumors of a divorce spreading all over social media. While they didn't address the stories, the couple left actions to speak louder than words by sharing photos of their luxurious and romantic mini-vacation at the beach.
Harvey has expressed the immense gratitude he has for his wife in several occasions, telling People magazine in 2016 that marrying Marjorie was like a second chance in life.
"It was like being reborn. I messed up so many times in my life. She made all the difference. When you're happy at home, you can make a lot of things happen."
Steve and Marjorie keep going strong, and they have a big blended family with Marjorie's three children and Stev'e's four.
"When you're dealing with a blended family, everyone is coming from a place of broken," Marjorie told People.
"We knew this was right. But I just told them, 'Everyone is included. Everyone has access to their parents. Whatever you didn't have before, don't let that interfere with what you can have now'."
Please fill in your e-mail so we can share with you our top stories!