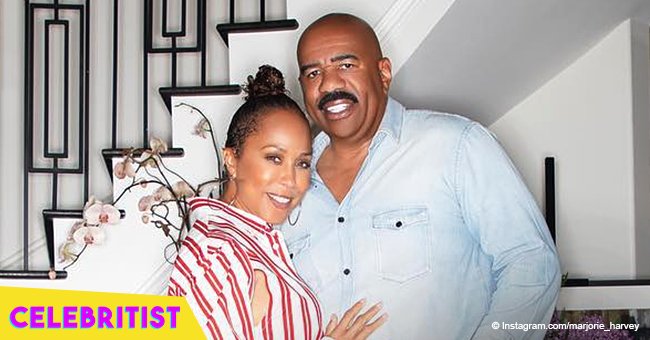 Steve Harvey shares romantic video with wife Marjorie following divorce rumors

Steve Harvey's new video during a romantic vacation with his wife Marjorie should finally put persistent divorce rumors to rest and fans are loving it.
Steve Harvey's latest video posted on social media is treating fans to a peek at his romantic vacation with his wife after they allegedly got into a big fight over his relations with Kris Jenner which lead to Marjorie's filing for divorce.
The talk show host was reportedly on the verge of splitting up with his wife after he was rumored to be hanging out with Kris Jenner which earned Marjorie's ire. The couple who's been married for 11 years allegedly had a huge fight with Marjorie threatening divorce before walking out.
However, the stories circulating seem to be in contrast to what the couple has been exhibiting in social media. They're currently on a European vacation and Steve just released a video that's resonating love and romance.
Steve's clip features the song 'Reverie'providing background for footages from their time in France and Italy including stunning views interspersed with sweet moments shared by the pair. Steve also documented their adventures with their children as they enjoyed the sights in Positano. They dove off a boat into the ocean and went underwater in a sea scooter. In his caption, Steve wrote,
"@marjorie_harvey and I.... Cool moments from the vacation with the Fam and don't ask me nothing bout the music cause I don't know but thanks to a great 25yr old @mattwoodvisuals we got some great footage."
Fans gushed over the video and delighted in what they saw.
"This is awesome!! Ain't GOD amazing. If he did it for you he can do it for me! #goals."
"@marjorie_harvey @iamsteveharveytv this is absolutely beautiful…..I have tears in my eyes"
"Amazing vacation for you a Marjorie. Well deserved vacation. You are a hard little worker and give back too. You're a child of God and a true angel"
News of Steve and Marjorie's alleged divorce started circulating in early July with the comedian reportedly facing a US400 million divorce suit. Marjorie allegedly discovered Steve was having closed-door meetings with the Kardashian momager and even communicating through phone chats and text messages.
Steve and Kris have been friends for years and they were even photographed together during Paris Fashion Week in 2015. Kris also appeared on the host's talk show and guested on Family Feud along with her family.
Other reports suggest Kris'interest in Steve is purely professional. She's reportedly merely taking advice from the television mogul having had a series of disappointments in shows she's produced in the past.
Please fill in your e-mail so we can share with you our top stories!