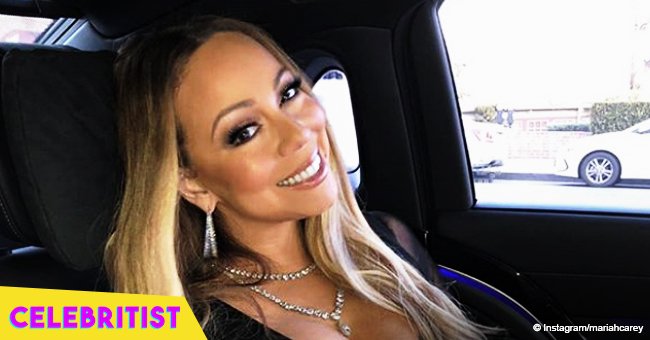 Mariah Carey, 48, flaunts her slim curves, posing with shirtless boyfriend, 35, on yacht in new pic

Singer Mariah Carey took to Instagram to share a photo showing herself in a very sexy pose in front of her boyfriend, Bryan Tanaka, who is 13 years younger than her.
In the image, Carey was portrayed wearing a pink and white beach dress and sunglasses while on board a luxury yacht. A shirtless Tanaka was wearing blue shorts and black sunglasses, as well.
The "sexy" aspect of the picture was that 35-year-old Tanaka was standing very close to Carey while holding up one of her legs. The 48-year-old singer was touching one of the straps of her dress just as if she was about to take it off.
To provide the final touch to the image, she was giving an over-the-glasses sensual look at the camera.
Apart from the hot characteristic of the post, the fact that Carey's body was considerably slimmer also attracted a lot of attention. As soon as she uploaded that photo, her fans and followers took to the comment section to share their thoughts.
One of them was Instagram user @_calmemaybe, who wondered if Carey was in the picture as she was so skinny they couldn't even see her. @mrsmcminamen chimed in and said that Tanaka's love for the singer seemed genuine and true.
CAREY'S PREVIOUS RELATIONSHIP AND CHILDREN
The singer met actor and comedian Nick Cannon while shooting a video for her song "Bye Bye" on an island off the coast of Antigua. In April 2008, the couple tied the knot in The Bahamas.
Exactly three years later, Carey gave birth to their fraternal twins Moroccan and Monroe via Cesarean section.
CAREY FUTURE PRESENTATIONS
According to Daily Mail, the singer is set to get back on stage at the Colosseum in Las Vegas, Nevada, on August 31 with her "The Butterfly Returns" show.
Carey will perform six more times before finishing her concerts on September 10. Only one month, later she will begin the Asian leg of her "#1's" tour. It will start in Kuala Lumpur in Malaysia on October 16.
Please fill in your e-mail so we can share with you our top stories!