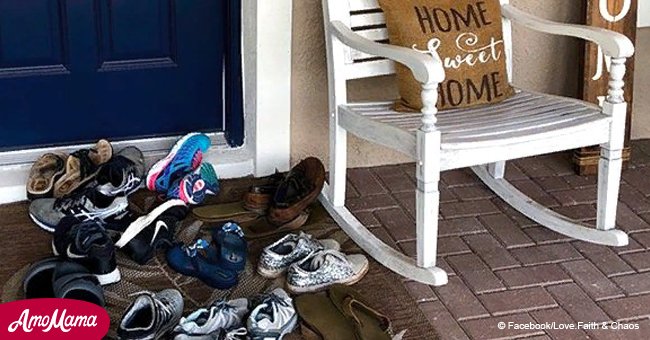 Mom's emotional message about 'shoes on the front porch' goes viral

The mother of two teenagers about to leave home for college found, at her front door, a reminder that this was the last summer she was to spend with her boys, and the picture she took of it, along with her heartfelt caption, went viral.
When Heather Duckworth returned to her home one summer afternoon after running some errands, she encountered several pairs of shoes that brought her great joy as well as a deep feeling of nostalgia, as she shared in a Facebook post.
She titled her note "The 18th summer," a reference to the number of summers a parent has with his or her children before they become adults and follow their own path, and it stroke a chord with thousands of people.
The shoes left outside her house's door were a sign that her it was "the designated hang-out house" that day, and she could clearly imagine the scenes that were taking place in her house full of teenagers.
But what could be considered a nuisance by some parents was a reminder for Duckworth of how priceless is the time we are given to spend with our children, and how fast it runs out. Read more on our Twitter account @amomama_usa
"These shoes mean there is probably no food left in my house. These shoes mean noise and chaos and laughter and music," she wrote at the beginning of her caption of the picture taken at her porch.
"It means there are probably kids lounging on my sofa, floating in my pool, playing air hockey or watching a movie somewhere," she added, as she recalled the sudden "wave of sadness" she felt when she thought of what was happening.
She went on to reflect on how the young people who owned those shoes had been hanging out at her home for four years, and how their friendships evolve and grew, and their personalities as well.
The realization that most of these boys and girls were about to go in different directions to start their college years and find their own place in the world was a hard pill to swallow.
"This is a bittersweet part of parenthood… this transition from having them home to watching them leave. My head knows this is a good thing, but my heart… it just hurts"
-Heather Duckworth, Facebook, June 20, 2018.
"So I am going to treasure this summer of the shoes... Because I know that all too soon those shoes will be running off exploring the world... and my porch will be empty," she concluded the post.
Her Facebook post has been shared 101,000 times and has drawn 17,000 comments.
"You brought tears to my eyes for this is where I am. I only have one teenager left at home, and when he goes off to university in a couple more years the laughter and noises of his teenage friends will be gone from our home, too," commented Lynda Clarke.
Duckworth has had to face great losses in the past, and it has taught her to appreciate every second she is granted with the people that is special to her, aware as she is that all things must pass.
As she shared in another Facebook post, Duckworth lost one of her children at an early age due to cancer. This tragedy awakened her to the fact that we get caught complaining about little things instead of enjoying what lives gives us.
Now, she hopes her reflections on treasuring every moment and not focusing on loss can be helpful to others, and we like to believe we are helping her reach more people by sharing her beautiful message.
Please fill in your e-mail so we can share with you our top stories!