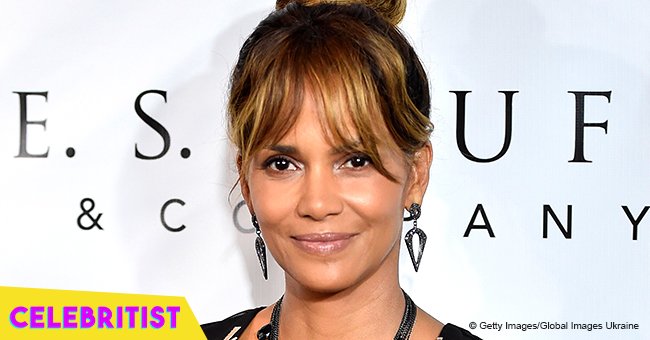 Halle Berry receives 'best birthday gift ever' from daughter Nahla
Halle Berry opted not to celebrate her 52nd birthday in a grand way but she did have cake and received the "best birthday gift ever" from her daughter Nahla.
August 14 was a special day for Halle Berry who not only recently proved that turning 52 means looking hotter than ever but who delighted in a special present her daughter gave her. The A-list star took to her Instagram stories to reveal an artwork gifted to her by her 10-year-old who created it herself.
It didn't matter that there was no lavish celebration during Halle's birthday because she had a lot of cake. She indulged in a cake fight with a few of her friends making the day even more fun than she probably expected. But that wasn't all that made her birthday one-of-a-kind. The actress received the most memorable gift, one that will remain close to her heart.
Her daughter Nahla delighted her with an artwork featuring a face of a girl. It was hands down the "best birthday gift ever" according to Halle who incorporated that thought when she shared a photo of the beautiful painting in her Instagram stories. She also proudly revealed the artwork was her daughter's by adding the words "Drawn by Nahla" with a heart emoji.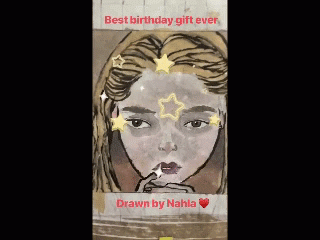 Source: Instagram
Nahla is Halle's daughter with her ex-boyfriend Gabriel Aubrey. She also has a brother, Maceo, who's Halle's son with her ex-husband Olivier Martinez.
As a single mother to her two children, Halle makes sure she spends as much time with them, especially when she's not working. Last year, she told People
"When I happen to have free time I am always thinking about what can I do with [Nahla and Maceo]. What can I do to have those moments really matter? I want that quality time because I know quantity is sometimes limited."
In June, Halle did find time to bond with her kids. They traveled to the French Polynesian island of Bora Bora and had a relaxing vacation there. Beautiful snaps of them just soaking in the sights were shared by the star on Instagram. Fans were even surprised when the protective mother debuted part of her son's face. She has never posted photos of her children's faces in the past and this first time was a surprise.
Explaining her decision to let down her guard, Halle told Extra,
"I really don't like to show my kids very much … but I do realize … my people are, like, solid for me and me for them and I feel like I want to include them. But it's a fine line because I don't want to exploit my children … I want to protect my children, so I thought, 'Half the face is good.'"
As protective as Halle is about exposing too much of her children, the 'John Wick 2' star didn't seem to be bothered exposing too much of herself to the world in one of her recent posts.
A couple of days before her birthday, Halle showed proof of her fabulous 52-year-old body when she posted a sensual photo barely dressed in a wet white T-shirt that left little to the imagination. The former bond girl sizzled in the jaw-dropping photo that showcased not just her flat abs but a glimpse of her underboob. It was certainly the best birthday present from Halle to her fans who were wide-eyed in awe at what they saw.
Please fill in your e-mail so we can share with you our top stories!