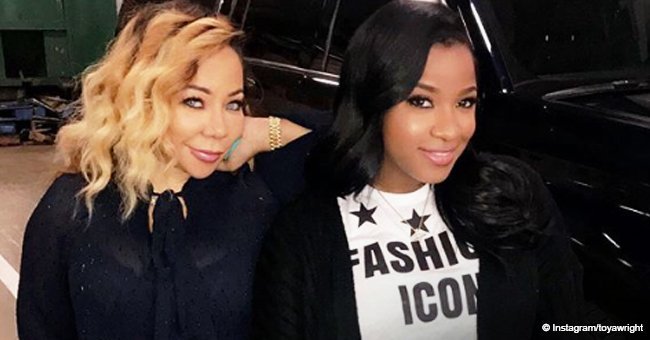 Tiny Harris & Toya Wright melt hearts in new pic during daughters Heiress & Reign playdate

What's better than one cute baby? Two of them! Longtime best friends, Tiny Harris and Toya Wright, 34, recently held a playdate for their two little girls and updated their followers, who could not get enough of the girls' adorable faces.
The picture shows Tiny and Toya posing with their kids, Heiress and Reign on a walkway. Toya balanced Tiny's daughter, two-year-old Heiress, on her hip while Tiny held on to six-month-old baby Reign. Heiress wore a Burberry sleeveless outfit and sneakers. Baby Reign, on the other hand, looked pretty content as she sucked on a pacifier in her floral-patterned outfit and baby sandals.
PLAYDATE FOR MOMS, TOO?
The proud moms took to Instagram to let their followers know they had just as much fun:
"I enjoyed my time wit my niece @reign_beaux today. She such a happy, beautiful baby @toyawright.. & this child of mineeeee @heiressdharris something else herself! #Tiny&ToyaPlaydate #HeiressHarrisReignRushing [sic]"- @majorgirl
"Enjoyed our #playdate with princess @heiressdharris and TT @majorgirl #HeiressHarris #Reignrushing"- @toyawright
ARE HEIRESS AND REIGN JUST AS FAMOUS AS THEIR MOTHERS NOW?
Fans were all for the adorable kids. One follower commented:
"@toyawright @majorgirl You both look absolutely beautiful with you [sic] angels...here is love from the UK"
Another admirer gushed:
"Awww! Too cute! @toyawright and @majorgirl should do a mini photo shoot for the girls"
TINY & TOYA'S GIFT TO THEIR KIDS
Tiny and Toya have been best friends for a long time, and it seems they're passing that legacy on to their girls. The Xscape singer and Lil Wayne's ex-wife even had a reality TV show based on their lives and friendship. Recently, Tiny shared a nostalgic throwback video of "Tiny & Toya" opening montage and gave a shout-out to her co-star.
SHOULD TINY & TOYA COME BACK?
A lot of fans have also been clamoring for the show to come back, especially with the latest addition of their babies, Heiress and Reign. One fan assured the ladies of public approval if they did revive the show:
"So, are we getting a comeback of Tiny and Toya?! The people are waiting to support..."
Another went as far as posing a question to BET, the channel on which "Tiny & Toya" aired:
"Can we get tht[sic] reboot or no @bet ?"
WHAT ARE FRIENDS FOR?
Both ladies were pictured together in Miami last month at a weekend girls' trip to celebrate Tiny turning 43. The two were soaking up the sun and having fun with their group despite reports in the media of Tiny's husband, T.I, cheating on her. Nothing like good friends to get you through tough times, right?
Please fill in your e-mail so we can share with you our top stories!