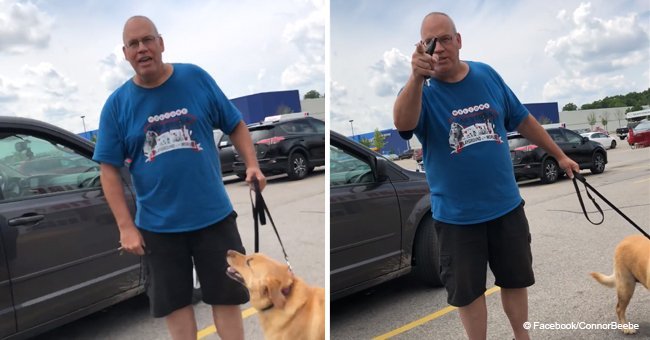 Angry pet owner threatens couple who rescued dog from his scorching vehicle

Connor Beebe and his female companion had a heated encounter with a man after they helped his sweating and panting dog left in his minivan.
In a video Beebe posted on Facebook, the man can be heard accusing them of trespassing for taking the dog, a golden retriever, out of his sweltering hot vehicle outside the Canadian Tire on Stone Road.
The owner takes back his dog, telling the pair to "mind their own business". He defends himself against the accusation he was harming the dog, saying that the minivan window was open and the dog had access to water inside the vehicle.
He also tells the pair that the dog was sweating and panting because they just came back from a run, and that he was only inside the store for a few minutes.
Follow us on our Twitter account @amomama_usa to learn more and please scroll down to watch the video.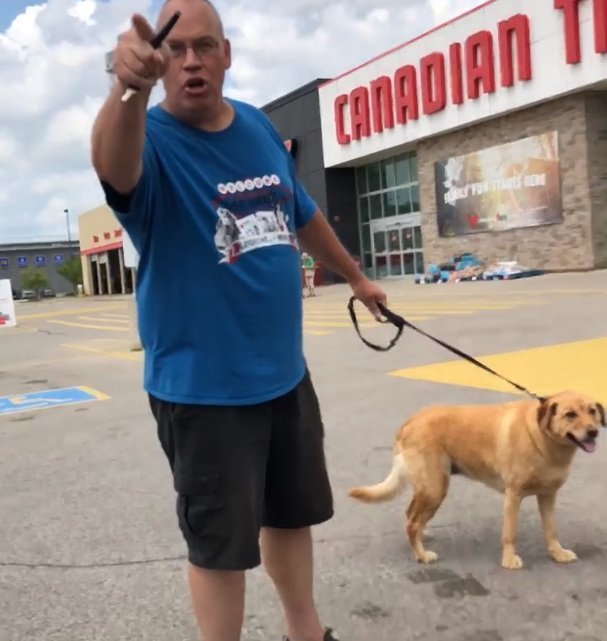 Source: Facebook/Connor Beebee
"We just got here!" he can be heard saying. He also insists that he cares for his dog.
DOG OWNER BECOMES VIOLENT
Connor's companion tells the dog owner that there was a heat warning in effect, adding that the temperature at that time felt like 33 degrees Celsius.
Before returning to the store, the dog owner warns the pair that he will charge them with trespassing if police came.
Later, he returns threateningly, saying, "I've had enough of this"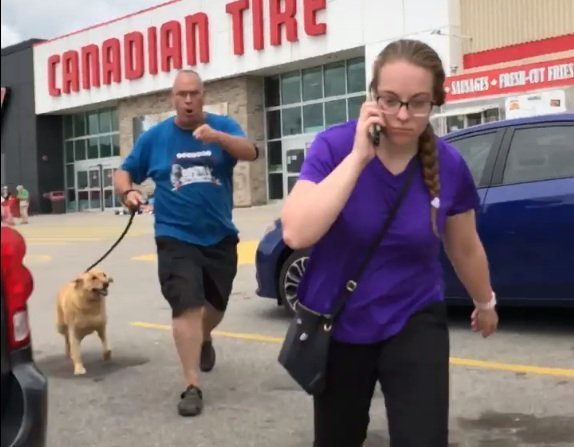 Source: Facebook/Connor Beebee
He runs toward Beebe, who is filming the incident, shouting, "You've messed with the wrong [expletive] person!"
Beebe backs down while his female companion dials her phone to call the police.
The video has been viewed 51,000 times and shared nearly 400 times as of Wednesday afternoon.
NETIZENS THROW IN THEIR TWO CENTS
Many netizens commended Beebe and his companion for their decision to take out the dog from the car.
"No reason for leaving the poor pup in the van, the Canadian Tire loves when you bring dogs in. They even give them treats," commented Valerie Pearcey.
"You did good... We need more people like you. The sad thing is, you can't fix stupid. There is always going to be idiotic people in this world... Thank you again for caring," wrote Teresa Leibel.
With the rise of animal rights advocacy, incidents of animal abuse has been getting more attention in recent years. Another video that triggered public outcry is one that shows police officers dragging a dog from their moving vehicle in China.
Please fill in your e-mail so we can share with you our top stories!