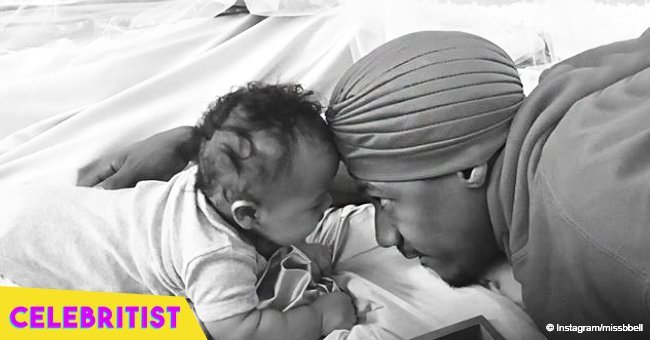 Nick Cannon's 1-year-old son Golden steals the show, modeling for mom's clothing line in pics
Nick Cannon's son Golden stole the show earlier this week when he was pictured joining his mother for a photoshoot wearing clothes from her own fashion line.
In the shoot, Nick's ex-girlfriend Brittany Bell and her son Golden modeled for the businesswoman's new clothing line called "Mama Gang", that features clothes for adults and kids. While the focus was meant to be on the shirts, the little boy became the center of attention during the shoot, as he moved around the set, posing, smiling, and pointing in different directions.
Those who have seen the outputs of the shoot couldn't help but share how impressive it was to see a 1-year-old kid modeling clothes, as it would usually scare other kids to have so many people around.
While doting father Nick wasn't around during his son's modeling stint, he would most definitely be proud of his youngest child who seems to be getting used to the spotlight as early as now just like his older siblings Moroccan and Monroe. The celebrity father once shared with People Magazine how happy he was to see Golden receiving so much love from his older brother and sister since his birth.
"They love him. Any chance they get an opportunity to play with him, they're all over him. The holidays were fun watching him crawl and try to take his first steps and watching his siblings try to help him walk around. It was so much fun."
It's nice to see Golden being close not just with her dad and siblings, but even his mom, who recently shared a heartwarming video of the two of them sharing a sweet embrace while at home. According to the former beauty queen, their hug and quick exchange are what happens in the house every time she has to say goodbye for a while.
It was in February 2017 that Nick Cannon and Miss USA Guam candidate Brittany Bell welcomed their first child into the world. The TV host shares his two older kids, seven-year-old twins Moroccan and Monroe with his ex-wife Mariah Carey, whom he maintains an amicable relationship with. E! News even reported that the "Always Be My Baby" songstress extended her congratulations and wished Nick nothing but the best after hearing of the healthy birth of Golden Cannon.
Please fill in your e-mail so we can share with you our top stories!