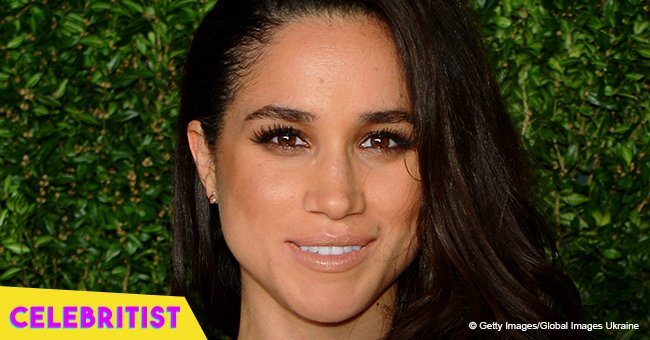 Megan Markle turns heads in pleated shirt dress & matching headpiece on her 37th birthday
Duchess Meghan Markle, who married Prince Harry on May 19, 2018, was photographed next to her husband at the wedding ceremony of one of Harry's closest friend.
In the photo that In Style Magazine shared on its Instagram account, the Royal couple was portrayed wearing very formal clothes for the celebration. Harry chose black shoes, striped grey pants, a big black jacket, and black sunglasses.
Meghan, who was walking next to her husband, opted for black stilettos and a pleated dark blue, green, pink, and white shirt dress. As for the accessories, she put on black sunglasses, a matching hat, and some pieces of jewelry.
For the caption, In Style Magazine revealed that the couple went to Charlie van Straubenzee and his now-wife Daisy Jenks' wedding.
As soon as that photo was uploaded, fans and followers of the Royal couple took to the comment section to share their thoughts. One of them was Instagram user @yana_tj, who pointed out that they loved how Meghan looked.
The ceremony was held on August 4 this year in the village of Frensham, in Surrey, London. The groom and Harry have been friends since both of them were at school, and Harry even served as Charlie's best man.
IT WAS ALSO MEGHAN'S BIRTHDAY
One of the most interesting aspects of their outing is that August 4 also marked Meghan's 37th birthday – the first one since she officially became a member of the British Royal Family.
Apart from that, Meghan had a small wardrobe malfunction during the wedding. However, she stole the show in her dark outfit. While waving to their well-wishers who sang her "Happy Birthday," the Duchess accidentally flashed her bra.
Thankfully for her, her bra matched her dress, and she noticed there was something "off" about it quickly, so the accident was solved in no time.
The way the couple celebrated Meghan's previous birthday was completely different as they went to Africa for a private getaway a couple of weeks before they announced their engagement.
AN INTERESTING COINCIDENCE
Meghan' and the Queen Mother, Queen Elizabeth, share birthdays. The Duchess was born on August 4, 1981, while Elizabeth was born on August 4, 1981.
Elizabeth turned 81 years old when Meghan was born, and it would have been her 118th birthday if she hadn't died on March 30, 2002.
Please fill in your e-mail so we can share with you our top stories!