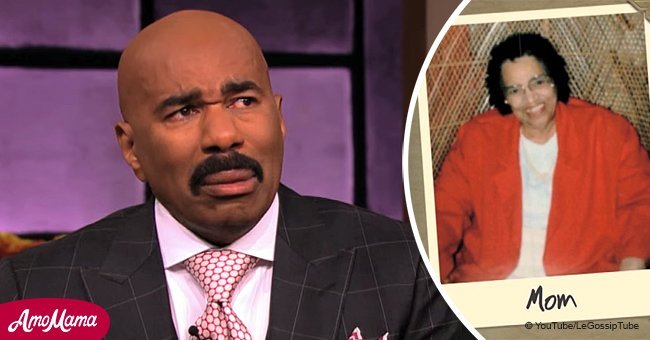 Steve Harvey bursts into tears during passionate tribute to his mother
Almost 20 years after the death of his mother, Steve Harvey imparts to his studio audience the lessons she taught him. The Steve Harvey Show featured a heartwarming segment in which Steve speaks about his childhood life with mother Eloise.
He highlighted the impact of "image" she shared with him. He also went into the religious influence that she inculcated into their lives. His deep love for her has also remained, overwhelming him as he tries to share her unforgettable reminders. Follow us on Twitter for more @amomama_usa.
The family attended church service twice a day on Sundays. Additionally, Steve was present at prayer meetings, bible studies, choir rehearsals, and several usher boy meetings.
Steve joked:
"I really was considering going to hell at one point, cause I thought that it was just too much church."
Steve returned to speaking about the need for a proper image that his mother instilled in him. It was at this point that he began tearing up. He says:
"We had to dress up all the time. I think about her when I'm ty-"
Unable to continue, Steve's audience offers applause for support. It takes a while for the host to get his composure back. When he does, he goes on to explain that when he was asked to do the segment, he said he'd "take a shot."
Choked up with emotion, Steve looks up and implores:
"I can only hope that in everything that she's taught me, somehow she's somewhere watching me. I hope that I've made her proud of the man I've turned out to be."
A bit more collected now, he mentioned values like the Golden Rule and He touched on respect and honor of women. Some audience members shared moments with their own mothers as Steve recalled the guidance he received. Steve elaborated on faith and what he describes as the "weapon of prayer."
Leading up to his success, Steve says he's never forgotten the importance of prayer. He also doesn't care who believes in the power of prayer or not.
He says:
"It has worked for me every single time I've used it."
Tearful once more, Steve repeats that his mother taught him about the "love of God and respect of people."
"I love my mother"
These were his words before solemnly walking off the stage amid earnest applause.
In a later segment during 2014, Steve shared the heartbreak of losing a mother with Tyler Perry. Perry's mother who died in 2009 was a great influence in a book he wrote called "Higher is Waiting." The two sat down to speak about Perry's motivation behind the book. In the segment, the "Madea" series creator noted that anything relating to his mother is the most challenging to speak about.
Harvey felt many more emotionally rousing experiences on his show. One such time was when he celebrated his 58th birthday with his wife as co-host. Harvey broke down in tears when family and long-time friends honored him in his hometown. Rousing many memories from the past, he couldn't believe who stepped in front of the camera when his wife started the live video call. The mayor also gave him a gift.
Please fill in your e-mail so we can share with you our top stories!