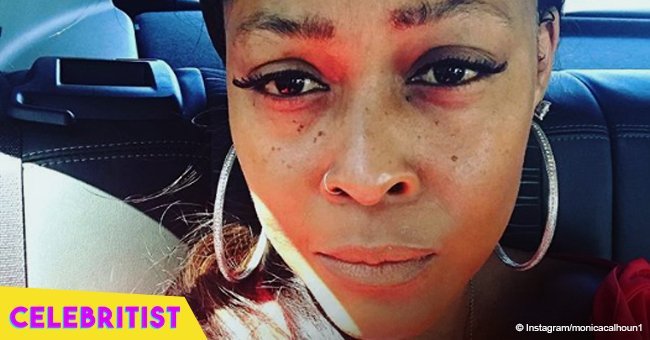 Remember Mia from 'The Best Man'? She kisses her special needs son's hand in touching pic

Monica Calhoun is best known for playing "Mia" in "The Best Man," and in real life, she's not too far from her kindhearted on-screen persona. But the soft-spoken actress is also a relentless Mama-Bear, and she showed that side of her recently when trolls came for her son's hair.
Calhoun welcomed her son 18 years ago, and both share a special bond. More so because the teenager is blind, he has had to rely on his mother more than other kids might. Calhoun shared a selfie of the two in a car. She is seen pressing a kiss to her son's hand as she wears a slight smile.
Even though Calhoun, who starred in the 1987 movie "Bagdad Cafe," never speaks of her son's father, it doesn't appear that the boy is missing out on much. Calhoun grew up with her brother Eric, who was also born blind, so she had a lot of experience to fall back on with her child. She revealed:
"My compassion and my sensitivity are heightened because of my brother's blindness…and spending a lot of time with him. And you know, teaching him things that I've learned…and then vice versa somewhat. Me spending time with him at his programs…like 'The Braille Institute'…just different little things. So I got a chance to experience life on a different level. Patience in watching these people that volunteer to work with children that have some sort of impairment."
Calhoun's outlook on life was influenced first by her brother's blindness, and then by her son's. The Philadelphia native holds a distinct perception of beauty and self-love:
"Beauty is how I feel about myself. If someone is looking at me and I'm not what their normal idea of beauty is, they see me and they feel my energy saying to them 'I'm gorgeous. I'm beautiful. …When you approach that inner beauty feeling, it's hard for someone to not deem you as beautiful."
Please fill in your e-mail so we can share with you our top stories!