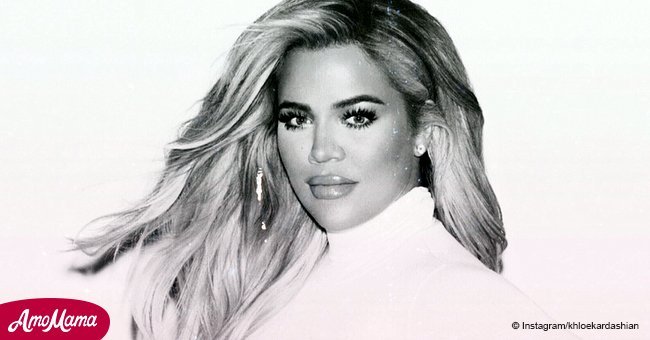 Khloé Kardashian flaunts her sensational bikini body
Khloe Kardashian has already snapped back from the baby weight she gained during her pregnancy. She recently showed off her regained figure by wearing a swimsuit on a trip to Mexico with her sister and boyfriend.
The group included Khloe and sister Kendall Jenner, as well as boyfriend Tristan Thompson and two male friends. Khloe, 34, stood out for more reasons than one. Her sunglasses, swimsuit, and figure were all quite amazing. Her basketball star boyfriend lazed around the pool while Khloe and Kendall enjoyed some waves.
They appeared to be taking some time off to relax at their Caba San Lucas beach house. Follow us on Twitter for more @amomama_usa.
After the birth of daughter True Thompson back in April, Khloe worked towards resuming her regular workout routine when it was safe to do so. On her Instagram, she mentions that it was not her top priority though. Her focus was kept on her newborn baby.
So it was to her surprise, as well as to fans, that she had lost an astounding 33 lbs. She attributes it to the following in her Instagram post:
"...breastfeeding and being very active during and after my pregnancy."
Founder of Good American, Khloe wore out her blonde hair with style that day. But it was definitely her rear that stole the show. As a fitness fanatic who used to work out 5-6 times a week according to her post, Khloe definitely raised the bar for mothers working on their snapback game.
In addition to sharing her experience in getting back her banging body, Khloe also recently posted a throwback picture on her Instagram. It was a shoot done back on March 13th in which more of her family was present. Kendall Jenner, Kim Kardashian West, Kourtney Kardashian, and Kylie Jenner all participated in the shoot.
The sisters came together to produce images for a photoshoot. The beautiful results were posted on their account. Khloe highlighted how it was more special with family, both those in her tummy and out.
Khloe, who is a mother to only one so far, sent out a huge Thank You to Hrush for the shoot. She said:
'I have this magical moment in time documented forever. Thank you Hrush for capturing these moments!!!"
As Khloe continues on her journey through motherhood, she shares often and in detail, about her health and other incidents she is working on. The photoshoot was just one post that captured great moments with her family and fellow cast members of the Keeping up with the Kardashians show.
Please fill in your e-mail so we can share with you our top stories!