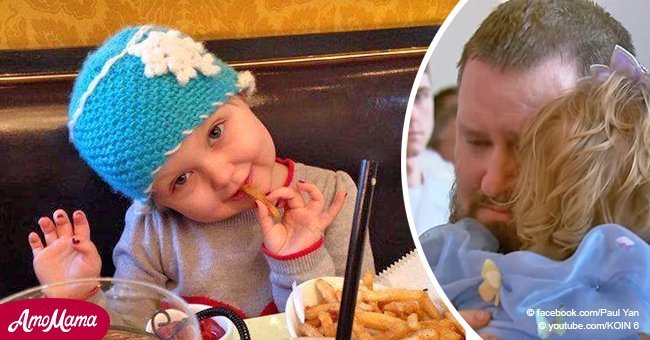 Moving last birthday party of terminally ill 5-year-old girl
She captured the heart of her small hometown in Oregon, and with the help of many a giant party was thrown for her in July 2015 that was at once time birthday party, prom, and wedding.
Lila May Schowhace was a 5-year-old girl who suffered from neuroblastoma, a rare childhood cancer, in stage 4. She was given two months to live since chemotherapy was no longer an option because her body was not strong enough.
Figuring that her upcoming July 31 birthday was going to be her last, Lila's parents Heidi and Blake residents of the city of Hood River decided to give their little girl the greatest party she could have dreamed of.
After spending the last three years of her life battling a merciless condition in the best of spirits, it was time for this girl to just enjoy as much as she could her final moments with her family, friends and the community.
Heidi took to a Facebook page she had created to invite people to join efforts in fulfilling Lila's dreams and started to organize the unforgettable event. Read more on our Twitter account @amomama_usa
As Katu reported the public's response to Lila's parents's idea of making a crowdfunded birthday ball for the girl was incredible, and it brought together people from many places.
People kept offering things to donate to the big party, and with so much help, what was originally intended to be a birthday party grew to be a prom and wedding as well.
The idea was to let Lila experience the closest thing to those milestones in a person's life that she was not going to have the chance to live since her time was cut short so soon.
The local old Butler Banking Building was turned into a princess's castle for one night, and Lila's "angels" took care of everything through donations, including food, music, costumed actors, and a custom-made dress.
Most of the people who made possible this extraordinary event had never met Lila, and her mother shared how impressed she was with the empathy of so many unknown people who went out of their way to grant her daughter so much.
"There has been an overwhelming response to Lila's big birthday bash! Thank you all so much for your extreme generosity!!! Her party is going to be truly magical. We have all the items, photographers, cakes, horses, etc. that we need and then some."
"We are astounded by all of you who have reached out to make Lila feel special. It's a humbling experience, I am so very grateful," Heidi wrote a couple weeks before the big event took place.
Lila arrived at the party dressed as princess. She crossed drawbridge on a carriage drawn by horses while escorted by the local police. She wore a Cinderella dress and was accompanied by the different Disney princesses.
In a heart-melting moment, her father Blake "proposed" and "married" Lila in a symbolic ceremony, and the two performed the traditional father-daughter dance, as BuzzFeed reported.
"We wouldn't have gotten this far and been able to fight this hard without all the help we've been given. We're so very grateful for that. It's all about making a little girl smile," Blake told Katu after the party.
A little less than two months following the great celebration of Lila's short but meaningful life, Heidi took to Facebook to share the sad news of the death of her little warrior.
We are sure that her hometown was never the same after witnessing the best face of humanity, all thanks to the inspiration Lila gave to so many people.
Please fill in your e-mail so we can share with you our top stories!