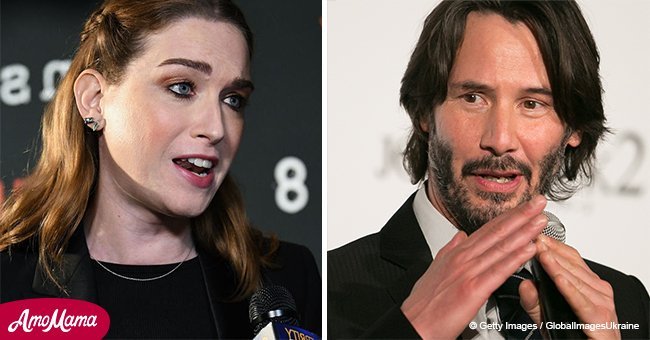 Keanu Reeves' alleged transgender ex-girlfriend sparked debate on his real sexuality

The actor's long-term single status has always raised a fevered curiosity about his sexual orientation, something he's never publicly discussed.
In 1991, a very handsome young Keanu Reeves starred in a film called "My Own Private Idaho," and become an instant hit among move-going fans.
In the motion picture, he played a gay character so convincingly that doubts about his sexual orientation have plagued him ever since.
He was then 27, and now at 53 he is often faced with the same questions. This is often sparked by his rumored relationship with the transgender actress Jamie Clayton, 40.
Clayton was born and raised in San Diego, California. In her youth she underwent gender reassignment from male to female, and moved to New York City in order to pursue a career as a makeup artist.
She started working on television, and eventually became co-host on a make-over program called "TRANSform Me." From there, she slid into acting, and has been working non-stop ever since.
Reeves and Clayton were supposedly filmed out on a date in July 2015. In the covert footage, they could be seen kissing next to his motorcycle before she climbed into another vehicle and drove away. The pair have never confirmed they were in any sort of relationship.
Clayton has become a household name due to her work in the series "Sense 8," where she plays a transgender person at odds with strange, apparently supernatural occurrences.
In January 2018 he was again spotted out on an apparent date with an unknown woman, dressed down in just a black hoodie and a beanie. The usually solemn actor actually looked relaxed and happy as he climbed into his car with the silver-haired woman following their date.
Though Reeves has been romantically linked to many of his costars over the years, he has always maintained a very low-profile, and his personal life has been fiercely guarded at all times.
All that is known is that in 2000 the actor was in a relationship with actress Jennifer Syme, and the two were expecting a baby. Syme went into premature labor eight months into her pregnancy, and gave birth to Ava Archer Syme-Reeves, who was tragically still-born.
The grief over their loss resulted in a deep depression for both, and a few months later Syme died in a car accident.
Reeves has had some run-ins with the press, all eager to unveil the 'mystery' of the star's sexual leanings, but it looks like it's still his secret to keep.
Please fill in your e-mail so we can share with you our top stories!