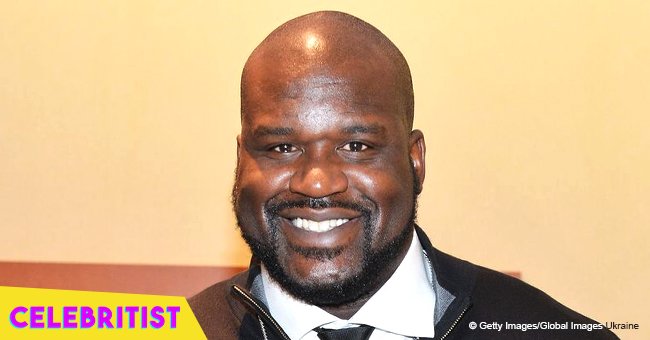 Shaquille O'Neal and his 3 grown-up sons stunned in elegant suits at the NBA Awards Show
NBA player Shaquille O'Neal shares a photo of his three grown sons supporting him during an NBA Awards ceremony, much to the delight of their fans.
In the image, the three O'Neal men were wearing three differently-styled suits, while the patriarch sported gray pants and a matching blazer on top of his black polo and multi-colored tie.
Shaqir, the NBA superstar's youngest son, opted to go for a bolder piece, sporting a red suit, white shirt, and an elegant red bowtie.
Shareef chose a dark blue blazer, a crisp white polo, and matching pants. Myles matched his dad and brother in a pair of gray pants, a dark blue blazer, a black shirt, and necklaces.
All of the dapper gentlemen flashed their biggest smiles at the cameras during the red carpet event, which was attended by many other NBA legends.
As soon as the photo was uploaded on Instagram, followers of the former LA Lakers champion headed to the comment section to share their thoughts regarding the O'Neal boys.
An Instagram user named @_houdini24 pointed out the striking resemblance between Myles and his mother, although he seemed to have a darker skin tone.
Shaq's wife, Shaunie O'Neal, was married to him for nine years from 2002 to 2011 before they ultimately separated.
Although their marriage spanned nine long years due to finalizing their divorce, their time together only reached seven years since they were separated twice.
Their first separation happened in 2007 after numerous rumors of O'Neal being unfaithful to his wife. Despite this, the couple was able to reconcile and save their family.
However, in 2009, things went sour again and the mother-of-five finally filed for divorce citing irreconcilable differences.
Two years later, the NBA star finally came clean about his infidelities, saying that he was a man with "too many options" at the time.
Despite their separation, Shaq and Shaunie have raised their children quite well, all of them achieving their own accomplishments thus far in their lives.
The NBA big man refers to Shaqir as his "twin," due to their resemblance. Shareef on the other hand recently graduated from high school and is set to go to college.
Meanwhile, Myles has found a career in modeling, being a runway model for couture brands like Dolce & Gabbana.
Now that their children are all grown up, the proud parents have also been trying to keep themselves busy with their own personal projects.
Shaunie is responsible for creating and producing the reality TV show "Basketball Wives," which famously stars Evelyn Lozada, Tami Roman, and Jennifer Williams, among many others.
She also started a footwear collection, partnering with Chinese Laundry to create "chic and modern" shoes with prices ranging from $80–$200.
Since his retirement from the NBA, Shaq has also been finding different ways to keep busy, including being a sports analyst on the television program "Inside The NBA."
The show had won nine Emmy Awards thus far. His status as one of the best players of all-time has resulted in Shaq doing jobs that are still related to the sport he loves, despite retiring in 2011.
Please fill in your e-mail so we can share with you our top stories!