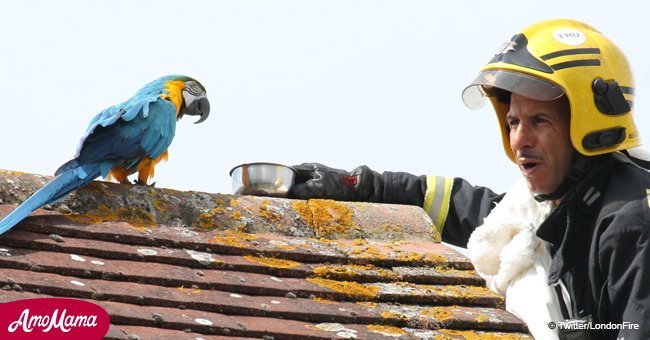 Parrot gets stuck on the roof for three days and tells firefighter off
A Macaw named Jessie presumed to be stuck on the rooftop of a house in Edmonton, London, surprised the rescuers by foul-mouthing them.
According to a report from Telegraph, officers from the London Fire Brigade (LFB) were called in to rescue the bird, which was stuck on the roof for three days.
Members of the Royal Society for the Preservation of Cruelty to Animals (RSPCA) and Jessie's initiatives to coax the bird to come down had failed.
The source informed that the turquoise and yellow Macaw parrot escaped from its home nearby. RSPCA immediately called in the emergency services after its efforts to rescue the bird failed.
Read more on our Twitter account, @amomama_usa.
Since the bird remained on the same roof for three days, it was believed that it was injured and could not fly to safety.
To bring the bird safely back to its owner, the fire crew sent a volunteer up a ladder to lure the bird with a bowl of food and a "fluffy white towel," the source mentioned.
The owner of the bird, who has not been identified, also instructed the volunteer to tell Jessie, "I love you," so that it would hear a familiar phrase and would come down easier.
The effort from the volunteer seemed flawless at first, but then the bird started swearing and foul-mouthing at the volunteer, much to the man's dismay.
They also figured out that the bird was not actually injured as it easily flew to another roof, then to a nearby tree, and finally to its owner.
This was not the first time that the aid of LFB was pleaded by the companies. Since they repeatedly receive random calls reporting animals in danger, the LFB has requested everyone not to dial 999 for saving an entrapped pet.
The responsibility should be first taken by RSPCA. And only if they cannot solve it, the firefighters of LFB should be contacted for assistance.
Parrots are one of the smartest animals when it comes to mimicking sounds. Another report also mentioned how a parrot sang Sia's hit, "Chandelier."
The video clip was shared on the internet, where it quickly caught on and went viral.
Please fill in your e-mail so we can share with you our top stories!