Keyshia Ka'oir shares photo of rarely-seen daughter wearing full-on Gucci
Keyshia Ka'oir shares a rare photo of her daughter on Instagram Stories, showing off her full-on Gucci outfit. This comes after she had to address rumors that she has other kids in Jamaica that she is not acknowledging. 
Keyshia's four children barely ever get the spotlight, and so when she posted a photo of her 18-year-old daughter, fans were amazed at how fast she's grown. Dressed in Gucci from head-to-toe, the beautiful teenager smiled happily at the camera as she flaunted her designer outfit.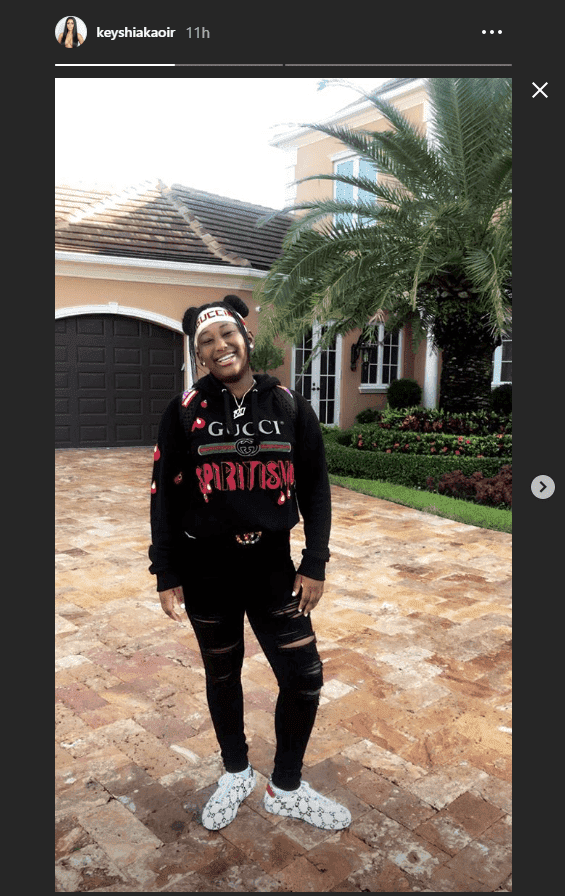 This photo comes after the mother-of-four addressed rumors that she has other children that she left in Jamaica in order to pursue her career. 
After she married Gucci Mane, Mrs. Davis addressed the rumors that have been circulating for years, and that was that she left three kids in Jamaica to pursue her modeling career in America. During The Mane Event, many were puzzled as to why her kids were nowhere in sight, and the rapper turned YouTuber Khia confronted Keyshia for allegedly hiding her children, and eventually neglecting them. 
To add fuel to the fire, it seems it's not just her alleged three children that have some hard feelings towards the model, as her sister Tanya Dazzle came out claiming she didn't get an invite to the wedding despite being her sister. 
"Yesterday was a bitter sweet day for me because I watched my sister, the most beautiful bride I've ever seen - walk down the aisle to marry the love of her life. We always dreamed about your big day but I never would imagine this day would happen without me."
After staying quiet for so long, Keyshia felt the need to finally speak up about the issue, tweeting her response to all the rumors going around. 
I DO NOT HAVE THREE KIDS IN JAMAICA!!!!!!!!!!!!!!!!!!!!!!!!!!!!

— Keyshia Ka'oir Davis (@KeyshiaKaoir) October 19, 2017
I DO NOT HAVE A SISTER !!! I'M THE ONLY GIRL! I HAVE 3 BROTHERS & ONE IS DEAD!

— Keyshia Ka'oir Davis (@KeyshiaKaoir) October 19, 2017
Despite these tweets, fans were just not having it and they were asking for proof. 
Fame is for show, you can be mad, but don't deny who she was & is in your life b/c you're in the glitz & glam & she not. 💯 pic.twitter.com/Qe0djYEg1D

— GodsGirl1st.BSN.RN (@atimelesspiece) October 19, 2017
You sure this not sis pic.twitter.com/jin4ghufgT

— 🌹🌷 (@SexLoveAndOJ) October 19, 2017
While the rumors are false according to the star herself, she does have four children. An 18-year-old, and three others between the ages of 12 to 15. Well, there you have it, folks. She is NOT hiding her children in Jamaica, and she doesn't have a sister.