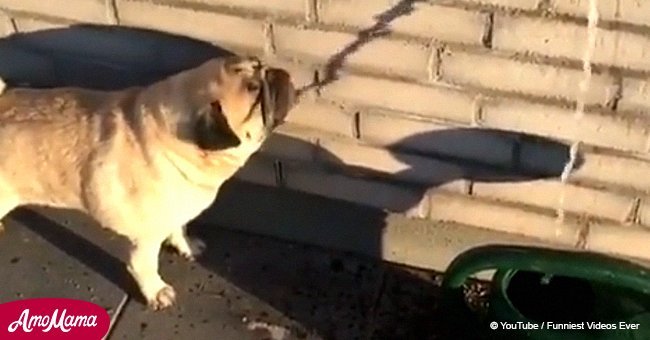 Hilarious pug cannot figure out how to drink water from a tap
A hilarious video of a pug named Ludvig was uploaded on social media, which shows the dog confusing the shadow of the tap water with the actual thing.
Instagram user Camilla Anderson uploaded the short video clip in which Ludvig tries to lick at the shadow that a nearby running tap water threw on the wall.
The cute little pup is desperately licking its lipping as if trying to get a taste of the water but fails miserably. Its owner, who is taking the footage, cannot stop herself from laughing at the animal's innocence.
The funny video has been adored by the Instagram users and it has been viewed over 11,000 times, with many people taking time to express their delight in the comments section.
Follow us on Twitter to learn more.
Dogs are one of the cleverest animals out there, but sometimes they also tend to show their innocent and carefree side to us.
In another video uploaded on YouTube, something similar was on display. Much like Ludvig, the dog in this video as well was caught in a hilarious act.
The dog in the clip is seen trying to catch the shadow of a pen that its owner is holding. The dog's owner is casually shaking his pen so that its shadow draws the dog's attention.
The innocent animal then latches on to the shadow of the pen but only manages to press his snout against the wall. It takes the dog a few more attempts to realize that the pen is not something it could easily catch.
In yet another video, a viral video star dog named Zeus was caught on tape showing off his own unique dog antic when his owner refuses to give him a bath.
In the video, Zeus is seen moaning and showing tantrums refusing to walk out of the bathtub unless the owner gave him a bath.
Please fill in your e-mail so we can share with you our top stories!