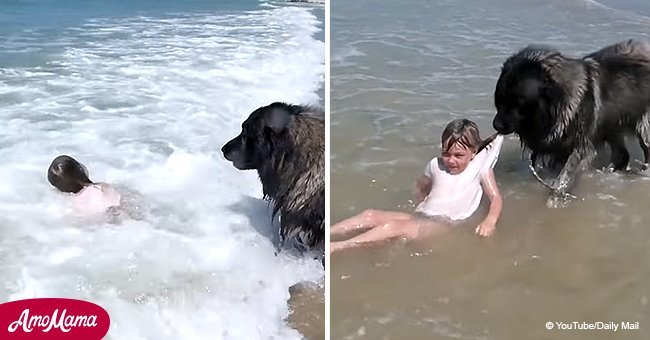 Dog rescues owner's granddaughter from imagined drowning (video)

Footage shows Matyas rescues his owner's granddaughter in the sea after thinking she's in trouble.
In the YouTube video that was shared by Daily Mail on August 13, 2018, Matyas can be seen trying to drag a little girl and pulls her onto the sand, near Gouville-sur-Mer, in France.
However, the child hadn't been in trouble at all. She was actually enjoying herself playing in the sea.
Follow us on our Twitter account @amomama_usa to learn more and please scroll down to watch the video.
While Matyas was swimming in the ocean with his owner's granddaughter, a small ripple crashed over her.
The dog immediately thought it was too risky for the little girl to continue her leisurely swim, so he decided to grab hold of her shirt using his teeth. The pooch then dragged her towards the beach.
In the adorable clip, the girl can be seen laughing as Matyas guides her towards safety. The dog lets up on his grip when he determines that she is already safe.
Since the video was uploaded, it has been viewed more than 257,000 times. YouTubers were also quick to comment on the heartwarming footage.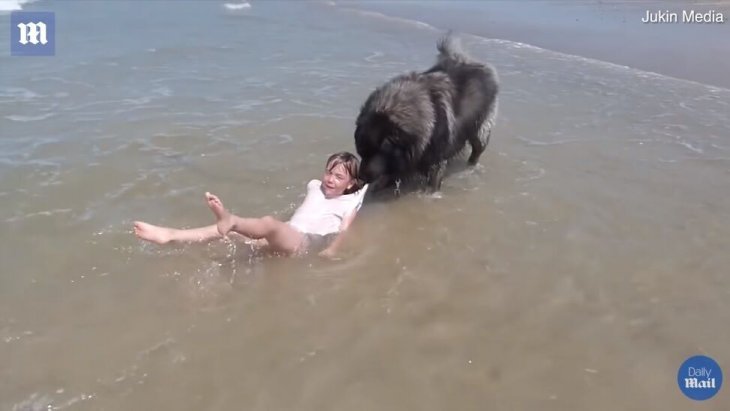 Source: Youtube
Marcelo Montoya wrote: "This reminds me of the logo from that sunscreen bottle when the girl is getting dragged by the dog."
"He saw the wave coming already before it hit the little girl. He felt the danger and was ready to act. You could see it at the way he watches in the ocean. So smart!" commented Adonijah.
Besa Jone added that the video is "cute and touching." She also pointed out that she adores "this dog breed" especially when they show their care for others.
It is currently unclear as to what breed Matyas is, with suggestions online including a Sarplaninac, Leonberger, Keeshond, or Newfoundland dog.
Meanwhile, Nanook, a husky dog, rescued a deaf hiker Amelia Milling recently after falling 700 feet down a mountain during a solo hike in Alaska.
Milling fell 300 feet down a snowy portion of the mountain. When she hit a large boulder, she slipped another 300 to 400 feet further down. As she sat herself to inspect her injuries, she spotted Nanook.
The dog immediately came to help Milling by guiding her to find her way back to a trail.
Please fill in your e-mail so we can share with you our top stories!