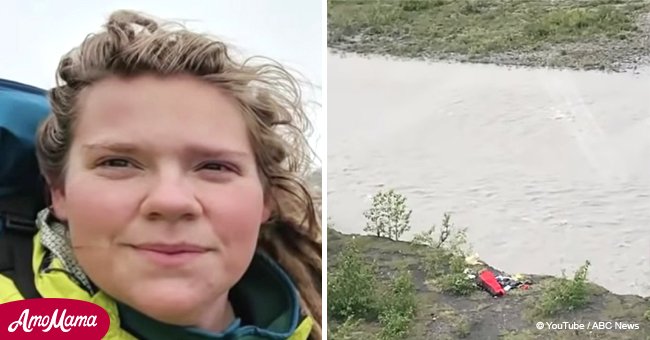 'Guardian angel' dog rescues deaf woman who fell 700 feet down a mountain
A husky dog rescued Amelia Milling, a deaf hiker, after falling 700 feet down a mountain during a solo hike in Alaska.
As reported by ABC News, Milling, 21, set out for a hike through Crow Pass Trail in Chugach State Park, nearly 30 miles outside of Anchorage, Alaska on June 20, 2018.
Unfortunately, her hiking pole broke about four miles into the journey, causing her to lose balance and fall.
Follow us on our Twitter account @amomama_usa to learn more.
Milling fell 300 feet down a snowy portion of the mountain. When she hit a large boulder, she slipped another 300 to 400 feet further down.
The deaf hiker was injured. As she sat herself to inspect her injuries, she spotted Nanook, a white husky dog.
Milling said that the dog immediately came to help her.
She told ABC News: "That's when I first saw Nanook and first I thought he was a wolf. Then I saw the little collar and realized he was there to help me."
Milling later discovered that Nanook is a trail guide dog that helps hikers find their way back to a trail.
The 21-year-old camped out overnight with Nanook by her side.
"When I opened up the tent, he was ready to go. He was just right there and that helped me to have some motivation to keeping going," said Milling.
She later told authorities that when she attempted to cross through the freezing waters of Eagle River Crossing, a strong current dragged her down further. Luckily, the rescue dog pulled her to safety.
When Milling got back on land, she activated her SPOT beacon, a GPS device to alert rescuers of her location.
One of the responding officers, Alaska State Trooper Lt. Eric Olsen, said he was amazed that the dog helped rescue Milling.
"When I realized I had a real-life hero dog I called up the owner and he said, 'No way,'" recounted Olsen, who was part of Milling's rescue team from HELO-3 out of Anchorage.
Olsen then drove Nanook back to his home in Girdwood. The dog's owner, Scott Swift, explained that his husky has the love for hiking and following people on the trails.
"There was one other girl about 6 years old -- he saved [her] when she fell in the river," he said. That incident took place near the Crow Pass Trail nearly two years ago.
Meanwhile, Milling credited Nanook for saving her life.
"I believe the dog is a guardian angel. I told him several times that I love him and I'll never forget him," she told the Anchorage Daily News.
Please fill in your e-mail so we can share with you our top stories!