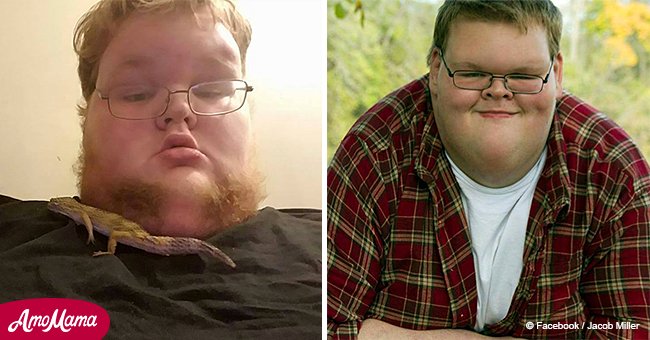 15-year-old weighed 707 pounds but drops five shirt sizes after surgery
Jacob Miller started to gain weight rapidly in spite of being born five weeks premature and weighed a massive 52 pounds by the time he was a year old.
In a story uploaded on YouTube by the Cincinnati Children's Hospital on January 20, 2015, Jacob Miller was putting on a 100 pounds a year, and by the time he turned 15, he was 6'55 tall and weighed 707 pounds.
His parents, though not very concerned when he was born, started worrying more and more as Jacob grew bigger by each year and also began suffering from heart problems, diabetes, cellulitis on his legs, non-alcoholic fatty liver disease.
Read more on our Twitter account @amomama_usa.
Jacob also started becoming a target of bullies at his high school due to his size. He was so troubled by the bullying and even switched schools and suffered from depression.
Concerned because of their son's condition, his parents Aaron Miller and Jackie Miller-Wilke, took him to several doctors, trying to understand what his problem was as they thought there had to be a biological issue that caused such problems.
After consulting many doctors, Jacob's parents enlisted the help of the Cincinnati Children's Hospital where doctors suggested a gastric bypass surgery.
Dr. Tom Inge, Jacob's pediatric surgeon, said that the procedure was the best shot at trying to tackle the condition and informed that as he was only fifteen years old at the time, his body or bodies, in general, were not built to hold that kind of weight.
Jacob and his parents agreed to go through the procedure after much thought, especially after other doctors had suggested that finding a cure may take up to 15 years.
Even though this procedure could fix all his problems, it was the first step that the parents took, hoping that it would give the doctors some time to research and understand the reasons for his growth.
"I don't think it's the fix-all, cure-all, but at least it's going to slow him down enough to give us maybe some time to do some more research to figure out what is causing his growth."
Jackie Miller-Wilke, YouTube, January 20, 2015.
Weeks before the surgery, Jacob was put on a restricted diet, and he followed it rigorously, losing 77 pounds before the operation took place. He proved that he was interested in living a healthy life.
A team of specialists assisted in readying him for the life-changing operation, and the surgical team performed the procedure on him.
The teenager lost a hundred pounds after the surgery. He said that he was proud of himself, for the effort that he had put and his next goal was to drop 150 pounds.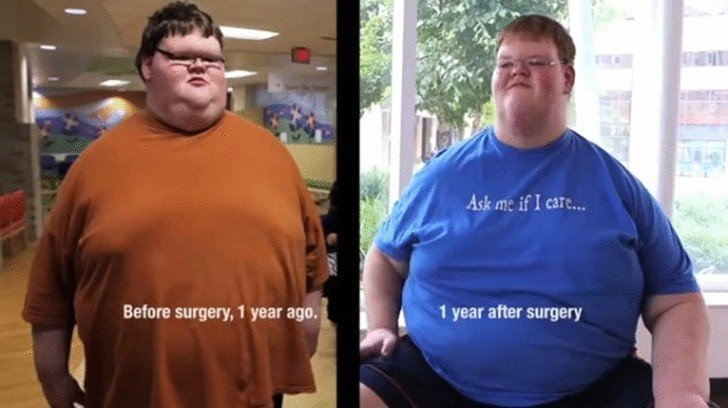 Source: YouTube / Cincinnati Children's
He was cured of diabetes and was asked to stop taking medicine. He was regular to all his appointments at the hospital and was positive about the significant changes that he had to make in his life while on the road to getting healthier.
In 2015, Cincinnati Children's Hospital said that Jacob was trying hard to break the 500-pound mark, but he was cured of diabetes. His sleep apnea had also improved.
Jacob was beginning to enjoy his school life at the New Miami High School and even went to prom with a date.
Jacob said in the video that the path he is taking towards recovery is a tough one, and he has to change everything about himself, but he realized that it's a change that will get him the best result.
Please fill in your e-mail so we can share with you our top stories!