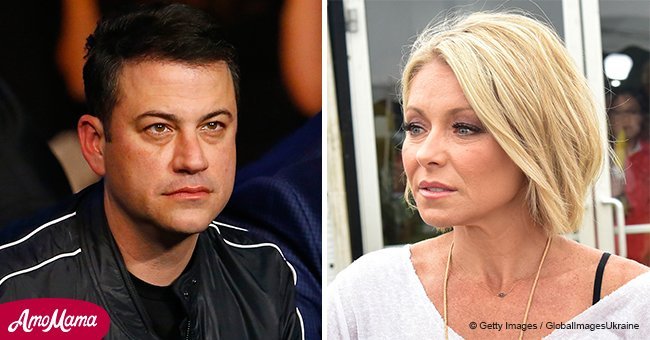 Jimmy Kimmel's insult about Kelly Ripa that once sparked fans outrage
Known for his humorous personality, much of what the talk show host says can sometimes be taken with a grain of salt, but this time it was sugar that sparked the outrage.
Jimmy Kimmel, host of the famous show of the same name, Jimmy Kimmel Live!, had attracted heated comments after his October 17, 2017, Twitter post was considered offensive by fans.
Comments poured in from fans and followers in response to what many felt to be in bad taste. The post in question was a simple thank-you note to fellow TV personality, Kelly Ripa.
Ripa had earlier sent a large box of treats to Kimmel, captioned:
"Welcome home guys. We miss you. Love Kelly."
The box contained various pastries and baked treats covered in chocolate and sugar. To say thank-you for the thoughtful gesture, Kimmel responded in a Twitter post to Ripa with a photo of himself enjoying the treats.
While the reply to Ripa was sincere and honest, it was not the photo that had so desperately upset many of his followers. It was the caption, which read:
"Thank you for the cookies @KellyRipa - you are sweeter than diabetes."
The Twitter post followed not long after Kimmel's son had to undergo heart surgery shortly after birth.
According to Business Insider, his son, Billy, was born with a rare heart defect, and Kimmel has since become an outspoken activist for equal healthcare for all children.
Kimmel and his family received an overwhelming outpouring of love, support, and well-wishes from his many fans during those difficult times.
Kimmel's followers were quick to reply with sentiments of disappointment and disgust in regards to his "sweeter than diabetes" remark. Many felt betrayed, writing that there is nothing "sweet" about such a life-threatening disease.
They also found it tasteless, disrespectful, and uncaring that he could make such a comment while so many in their own families are struggling with the very real disease on a daily basis.
Please fill in your e-mail so we can share with you our top stories!