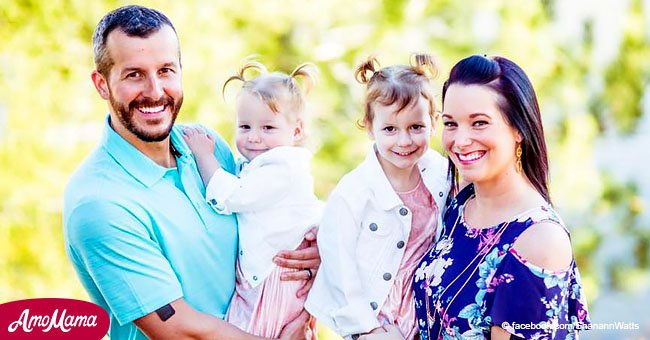 Tragic update on missing pregnant mother and two young daughters
On Monday, Shanann Watts was reported missing along with her two daughters. At the time, she was also 15 weeks pregnant.
Two days later, her husband, Chris Watts was arrested in connection with their disappearance. Now three bodies have been found that are suspected to be the missing persons.
Shanann Watts, 34, was reported missing along with her two daughters, Bella, 3, and Celeste, 4. Chris Watts, her husband, was taken into custody on Wednesday night.
He was held in the Weld County Jail, north of Denver, according to the Frederick Police Department. Chris was arrested on three counts of first-degree murder and three counts of tampering with a deceased human body during a court appearance on Thursday.
For more on this story go to our Twitter account @amomama_usa. On the same day, the police discovered three bodies they believed to be Shanann and her two young daughters.
"At this point we have been able to recover a body that we're quite certain is Shanann Watts' body," Colorado Bureau of Investigation (CBI) Director John Camper told reporters.
Police are working to confirm their identities. A Weld County District Court judge gave prosecutors until Monday to formally charge Chris.
The adult woman's body was found on the property of a petroleum and natural gas exploration company. The company revealed that Chris used to work there.
Police refused to say where the children's bodies were discovered but said they were found "in close proximity to the other body whom officers strongly believe is Shanann's."
Before he was arrested, Chris had told the media that his wife had gotten home from a business trip at about 2 a.m. on Monday.
He revealed that they'd "had an emotional conversation, I'll leave it at that. I just want them back. I just want them to come back."
He left for work at about 5:15 a.m. that day and became worried when one of her friends contacted him around noon to say his wife wasn't responding to messages. When he got to their house she and the children weren't there.
"She said she was going to a friend's house with the kids and that's the last thing I heard, and that was it. It was very vague," Chris claimed at the time.
Now a family friend has revealed that the couple "were having marital problems and she was getting ready to leave him." Shanann's Facebook page revealed that she and Chris were apart much of the summer.
In June, July and a portion of August, she and their daughters had spent six weeks in North Carolina with her family.
A man named Frankie Rzucek was identified on Shanann's Facebook page as her brother posted an overnight on his page revealing how her possible death has affected him.
He stated that he wanted "to know why" her husband would kill her and the children.
"I just want 30 seconds alone with that heartless psychopath. May Satan have mercy on his soul," Rzucek wrote.
Please fill in your e-mail so we can share with you our top stories!