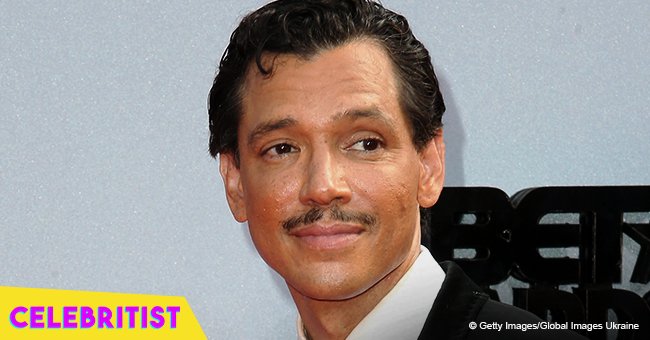 El Debarge's grown son is his mini-me in sweet pic with mom
El DeBarge's eldest son, El Patrick Debarge, Jr. recently shared a touching photo with his mother and it was a testament to how close they are.
Just like his father, El DeBarge, the lead singer of the famed 80's group DeBarge, El Patrick DeBarge Jr. is a musician who dabbles in singing and songwriting. As his career requires of him, he shuttles between shows to share his talent. However, a recent photo reveals what is truly important to him as he showcased his love for his mother, Bobbi Sanders, by making time for her in between his shows.
"Took a little time out between shows to focus on the things that matter the most," El wrote to caption a beautiful photo of them that he posted."
The photo captured a sweet moment between mother and son who relaxed their heads on one another. El wrapped his arms around his smiling mother who gently laid her head on his shoulders. Meanwhile, her son, with his eyes closed, laid his head over hers, creating a memorable image.
El is the eldest of 13 children his father sired. Despite having grown up in the limelight of Hollywood, his mother managed to keep him grounded. Bobbi also recognized her son had talent and encouraged him to cultivate his passion for music. She enrolled him in a music program in high school which led him to take further studies at Musicians Institute College of Contemporary Arts in Los Angeles.
Through his father's example and the DeBarge family's musical inclination, El learned to develop his craft, master his voice and create his own music. In 2008, he formed his own music label, 'InFam Records.'
El describes himself as a very flirtatious guy and with his good looks (he's also a model), he can easily charm the ladies, much like his father, though recent events have put him in a bad light.
Last month, the older DeBarge was arrested for felony vandalism. According to reports, he smashed the windshield of a vehicle of an unnamed person. DeBarge spent the night in jail and was released the following morning on bail. It wasn't the first time the singer was charged with a crime. His ex-girlfriend also filed a restraining order against him after he pulled out a shotgun and waved it at her. He was ordered to stay at least 100 yards away from the woman.
Please fill in your e-mail so we can share with you our top stories!