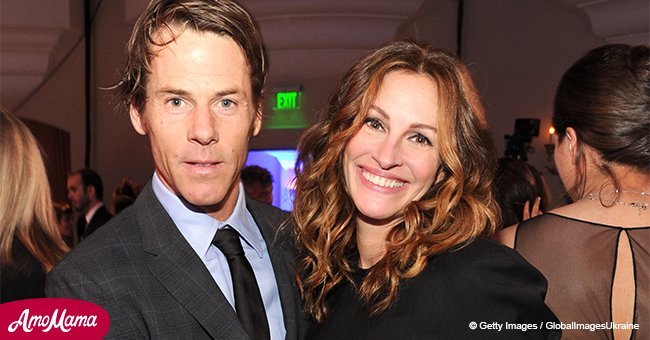 All the details about Julia Roberts' 16-year marriage that faced a lot of troubles

The 'Pretty Woman' star and her husband have been married for over a decade already, and recently decided to take another special step in their relationship.
Julia Roberts has been married to cinematographer Danny Moder for 16 years. The couple tied the knot in 2002, after meeting in 2000 on the set of the film "The Mexican."
Roberts was then the highest paid entertainer in the world, and after winning an Oscar for Best Actress for her role in the drama film "Erin Brockovich" in 2001, had the prestige as a serious actor to match her fabled beauty.
By the time she met Moder, Roberts had a long list of romances with fellow actors behind her, and even a brief marriage to singer Lyle Lovett - whom she married in 1993 and divorced in 1995.
To universal admiration, Roberts married cameraman Moder, and devoted herself to raising a normal family. The girl named the "World's Most Beautiful Woman" five times became a mother, and her lifestyle is as far from a movie star's as it is possible to get.
Roberts and Moder were overheard by an insider at a Super Soul Sunday brunch at Oprah Winfrey's house in the October 2017 discussing renewing their vows.
The couple have faced plenty of challenges in their marriage together, and even went through a trial separation at one point before they decided they didn't want to pull the trigger on their relationship.
The crisis had been caused by several stressors, of which the death of Roberts' mother, Betty Lou Motes - just a year after her younger half-sister Nancy Motes' suicide - was the most serious, and left the star in an emotionally fragile state.
It was ultimately the love and support of her husband and her three children which brought the star back from the brink of an awful depression.
Throughout the first half of 2018, the couple has again been plagued by divorce rumors that were never confirmed or denied by either party.
In later July, however, they were spotted on a beach in Malibu together where Moder appeared to be helping his wife with a photoshoot session, holding up the skirt of her long dress as she walked across the sand.
Please fill in your e-mail so we can share with you our top stories!