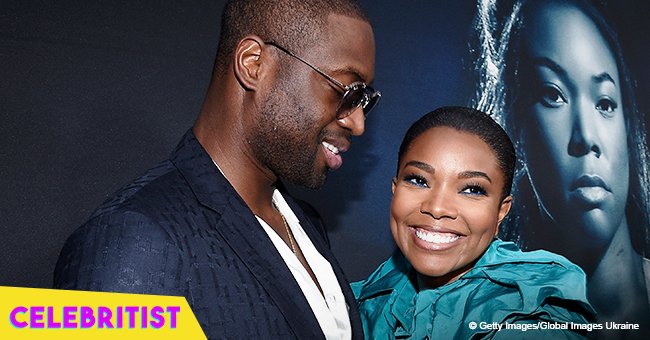 Gabrielle Union shares romantic video with Dwyane Wade while enjoying Venice breeze on a boat

As part of their "Wade World Tour", NBA superstar Dwyane Wade and his beautiful wife Gabrielle Union cuddled up beside one another and enjoyed a breezy day off in Venice.
Just yesterday, Gabrielle made sure to share the precious moment between her and husband Dwyane, who were enjoying the Venice breeze aboard a luxury boat. In the video, the lovely couple was all alone on a speedboat that took them across the sea. Clearly enjoying the breeze, they added some chill music to make their trip even more relaxing.
"Letting my White Twist shirt flowwww in this Venice breeze. Zoom in to see all the phrases hidden on this shirt. "
Prior to their trip, Gabrielle Union revealed the heartbreaking reason as to why she and her husband do not have kids of their own.
Although the couple has tried to conceive through IVF, it has been extremely difficult for her to conceive a child due to her fertility issues. The 45-year-old shares that after several miscarriages, her infertility could have been brought about by a condition that has been present since she was in her early-20's called "adenomyosis".
As one of the attendees of the 2018 #BlogHer Conference, Union opened up about her struggles of not being able to conceive a child with her husband Dwyane. According to her, after heartbreaking years of not being able to become a mother to a biological child, she finally got the answers that she has been searching for.
"Towards the end of my fertility journey I finally got some answers, because everyone said 'You're a career woman, you've prioritized your career, you waited too long and now you're just too old to have a kid — and that's on you for wanting a career. The reality is I actually have adenomyosis. The gag is I had it in my early 20s, and instead of someone diagnosing me they were like 'Oh you have periods that last 9 or 10 days and you're bleeding through overnight pads? Not a mere inconvenience perhaps there's something more there.'"
Despite this, Gabrielle is the step-mother to Dwyane's two sons named Zaire and Zion. Instead of dwelling on the fact that she cannot give birth to her own child, she has welcomed the two teenagers with open arms and treat them like her own.
Dwyane and Gabrielle have also proved that their love remains strong despite this challenge, making the most out of their time together as a married couple by traveling and touring the world together on their "Wade World Tour 2018".
Please fill in your e-mail so we can share with you our top stories!