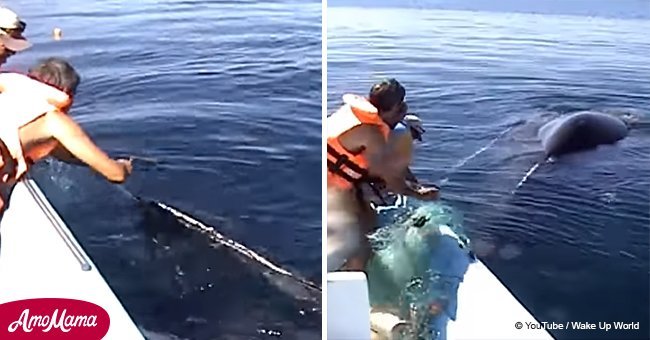 Humpback whale shows immense gratitude after being freed from net
Michael Fishbach's thrilling rescue operation led to a humpback whale swim into freedom from fishing nets.
Wake Up World uploaded the video of the rescue which took place in the waters of the Sea of Cortez, in the Gulf of California, on February 14, 2011.
The co-founder of The Great Whale Conservancy (GWC), Fishbach, decided to act fast when he saw a young humpback whale tangled in fishing nets.
Read more on our Twitter account @amomama_usa.
Though Fishback initially thought it was dead, he investigated a little further and realized that the animal was still breathing.
His crew soon joined him in saving the whale and turned a possible tragedy into a thrilling rescue operation.
The action was captured on camera and Fishback narrated his experience. He said that the young whale was floating in the water and after several minutes let out a forcefully exhaled.
He knew he had to get into the water to assess the situation the creature had found itself in. He went into the water with his snorkeling gear.
It was then he realized that the whale was entangled in the nets used by the local fishermen. He narrated that their eyes met as he swam near it.
"There were no words we could share, but I wanted to let the whale know that we were there to help her."
Michael Fishbach, YouTube, July 16, 2011.
To see the huge animal stuck in the nets helpless was overwhelming for the man. He confessed that he was nervous during the operation while the animal was tired.
He was taking a risk getting so close to the young whale as it could kill him with just "one panic movement." He went ahead to take a look at its tail which was entangled and pulled the whale down almost 15 feet below the water.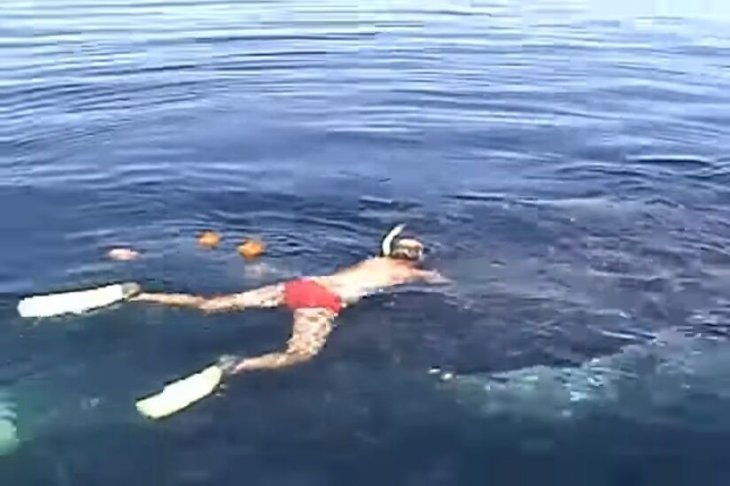 Source: YouTube / Wake Up World
As Fishbach was waiting for possible help from someone in about an hour, his crew members began to pull the net and cut it.
After working hard, the team was able to release one fin of the whale. It sensed that it was finally being freed and began to swim. The boat did get a little ride while they were still working on completely freeing it.
It took about 30 minutes for the team to remove the net from the other pectoral fin. Then, about an hour after they began their rescue work, they realized they had enough net on-board to make the final cut.
The animal, happy to be finally free, swam away. However, about 500 feet from their boat, it jumped high into the air giving them happy memories that will last them a lifetime.
Whales are known to save other animals from danger. One biologist was lucky to learn this behavior when she had an incredible encounter with a humpback off the cost of Muri Beach, Rarotonga, in the Cook Islands.
Nan Hauser, who had been studying the mammals for over three decades, was swimming near some whales. They began to get closer to her and even allowed her to touch them.
For 10 minutes, one particular whale kept tucking her under its fins, rolling her over its belly and back, and even lifting her out of the water.
It was when she climbed back onto her boat that she realized the humpback was protecting her from a 15-foot tiger shark. She had recorded her encounter and viewers got to relive her experience.
Please fill in your e-mail so we can share with you our top stories!