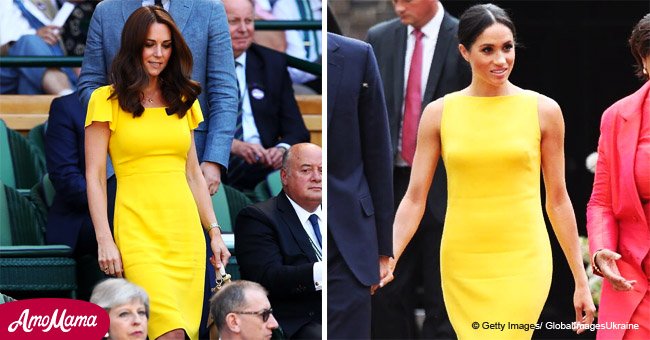 Meghan and Kate's simple yet genius trick to avoid wardrobe malfunctions, according to The Sun

Learn the Duchesses secret tricks to prevent wardrobe malfunctions
The two Duchesse, Kate and Meghan, show an effortless chic, a confident charm in every public appearance.
Even under the scrutiny of the press, the two Royal women are always impeccably cool, and virtually immune to the wardrobe malfunctions that seem to plague so many celebrities.
The Sun reveals some of the Duchesses' closely guarded secrets through etiquette expert Myka Meier's revelations.
"Often they wear body suits and clothes that actually increase static so it's much hard for something to fly up. So you have an undergarment that is almost like a body suit."
Myka Meier, The Sun, 14th of August 2018.
Remember Marylin Monroe's famous scene in "The Seven Year Itch" when her skirt is blown up? While the sexy scene was perfect for the movie, a repeat in real life would be a disaster for a Royal Duchess.
According to Meier, the two Duchesses wear a special type of undies to prevent their skirts blowing up and revealing their Royal knickers.
Read more about the Royal Family on our Twitter account @amomama_usa.
In order to avoid such an embarrassing occurrence, the Royal women wear an undergarment that increases static electricity, something like a body suit.
This undergarment will definitely be a must for Duchess Meghan when she and Prince Harry leave for their Royal Tour of Australia in October.
Every arrival at a different city Down Under will certainly include a formal reception on a windy airport runway and lots of photographers just dying to capture any indiscretion.
The Queen has her own secret to stop her skirts from blowing up. She has curtain weights sewn into her hems, something easily acquired at a curtain accessories section of any department store.
Duchess Kate didn't know those tricks back in 2011 when her full-skirted Jenny Packham dress blew up at the Calgary airport.
She has been sharing those precious hacks with her new sister-in-law, including using hairpins to stop those lovely hats from flying away.
The two Duchesses have become icons of fashion, and have brought their own sense of style to the British Royal Family.
The Sun: Meghan Markle sticks to her sexy style of dress – and the Queen approves
Kate Middleton channels Duchess Meghan in radiant yellow D&G dress
Please fill in your e-mail so we can share with you our top stories!