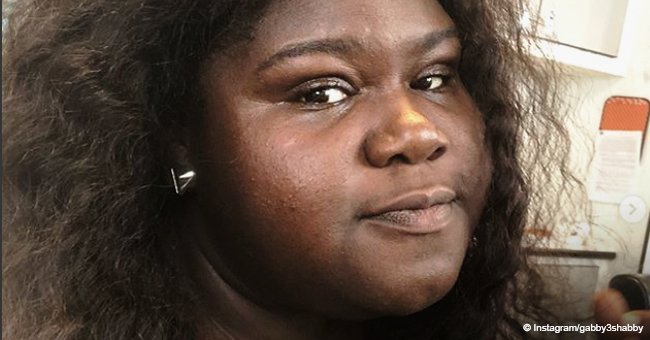 Gabby Sidibe rocks red & black locks in recent pic after confessing she's heading back to therapy
"Precious" actress, Gabourey Sidibe is rocking a new hairstyle, and she looks terrific as usual. The actress also confessed she's going back to therapy, as she has always been open about her different struggles.
Gabby Sidibe has made of her Instagram a safe place where she shares with her loyal fans her most honest thoughts, funny stories and natural looks. Just a few days ago she posted a funny pic wearing a wig before her stylist finished the work, causing fans to erupt in the comments as she captioned the post:
"I'm ain't gon stop... I'm ain't! #Empire #Wig #WigPire Edit: I know the lace isn't done yet. I'm still in hair and makeup. I wanted to make it clear that i'm wearing a wig. Was that not clear?"
One of her most recent posts features the 36-year-old rocking some newly dyed red and blue locks, black-rimmed glasses, red lipstick and a white t-shirt. Gabby took to her caption to share an update of her life with fans saying:
"After 3 weeks off, I'm so excited to see my therapist today! I have a lot to say. Starting with the season premier of #Insecure. There are things I need to work out!" [sic]
Fans immediately took to her comment section to share their thoughts on the photo. One user wrote: "love, love, love the look!!! Details on the lip are needed!!! I've been looking for a red to match me for forever!!!!" another added, "All the cool cats are in therapy! Thanks for being open about it"
Sidibe has always been open about her struggles with body image and self-acceptance since she first started in the entertainment industry back in 2009. Even though she had a surgery to help her lose weight, and her figure is looking slimmer these days, Gabby still has to deal with haters on the daily.
Speaking at the 2018 Makers Conference last May, Gabby revealed that one of her pet peeves is getting dressed for red carpets because no matter what she wears, people will always make fun of her.
"It's really hard to get dressed up for award shows and red carpets when I know that I will be made fun of because of my weight. There's always a big chance that if I wear purple, somebody will call me Barney-- if I wear white, a frozen turkey-- if I wear a red, a pitcher of Kool-Aid."
"Diet or die, they say. This is what I deal with every time I put on a dress. It's what I deal with every time someone takes a picture of me," she confessed.
However, Sidibe hasn't let another people's opinion bring her down. Her strength and will to show up and have a good time drive her through life despite all the struggles.
"So how am I so confident? Because it's my good time and my good life, despite what you think of me. I live my life. I live my life because I dare. I dare to show up still when anyone else might hide their face and their entire body in shame. I show up because I want to have a good time."
Please fill in your e-mail so we can share with you our top stories!