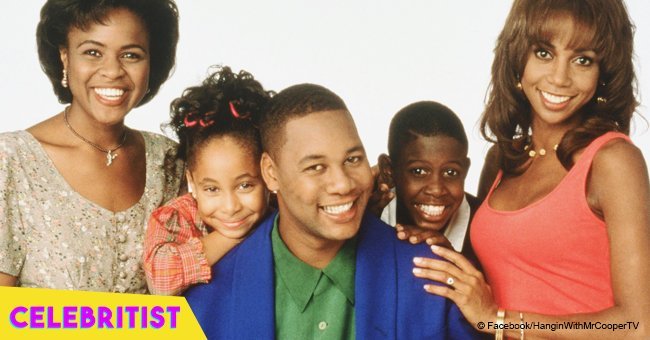 Remember Mark from 'Hangin' with Mr. Cooper'? He looks great in recent pics despite past tragedies

Mark Curry shared a photo on Instagram that garnered laughs a month ago. Curry is best known for his role in a 1990s ABC sitcom as a quirky teacher.
Mark suffered a horrid experience that left burns on more than 18 percent of his body in 2006. However, the picture left viewers in good spirits as Mark himself appeared to be on the up and up from his past tragedy.
In the photo, Mark wore a blue hat and grey glasses. The glasses overtook the width of his face so as to appear comical.
One hand of Mark's held the frame while his other hand was open and over his ear.
Follow us on Twitter for more @amomama_usa.
Curry's caption for the post reads :
"You see me."
As one commenter with username falon_03 said, "How can we not?"
Many of his other posts reflected a strong and happy Curry. The one below posted just over a month ago featured Curry sitting in front of Apollo wearing a green Adidas t-shirt.
Fans don't appear surprised at his positive attitude, but Curry has been through a lot.
It was in Oakland California that Curry, then 45, accidentally bumped over an aerosol can of spray starch.
The container collided with a metal bracket connecting a water heater to the wall and burst open. The contents fell in front of the heater's pilot light.
The explosion which resulted immerged Curry in flames and sent him flying 10 feet away. He was in a medically induced coma for four days.
The third-degree-burns he suffered left him in extreme pain, as well as with charred skin on his arms, back, and side.
People Magazine interviewed Curry back in 2007. Describing what happened, Curry said:
"[The explosion] blew me back through a door to another room while I was on fire. I screamed, "Fire, fire, fire!" My sister [who was visiting at the time] came running to me and put me out."
Curry described how, despite knowing the situation was serious, he made light of it on the 911 call he managed to make:
"I remember when I was about to go into shock; I could feel it about to happen. But I kept joking! Nobody was laughing, but that didn't stop me."
The horrible incident did end up slowing Curry down, however. He admits that he had suicidal thoughts at the time:
"I wanted to commit suicide. Man, I cried every night. I'm not afraid to say it. I felt scarred and weak. I remember crying, saying I was less than a man."
Just like he used comedy to help him right after it happened, Curry explained that it was laughter again that got him though:
"After the accident, it was comedians who called me. It was Sinbad on the phone making me laugh. Martin Lawrence called, the Wayans brothers. When Bill Cosby calls you, jokes with you, it inspires you. He told me to keep my head up and be strong."
Soon after, he returned to make others laugh on a comedy floor just "three, four days after [he] got out of the hospital.
Curry continues to share optimism and joy with the world on his social media.
Please fill in your e-mail so we can share with you our top stories!