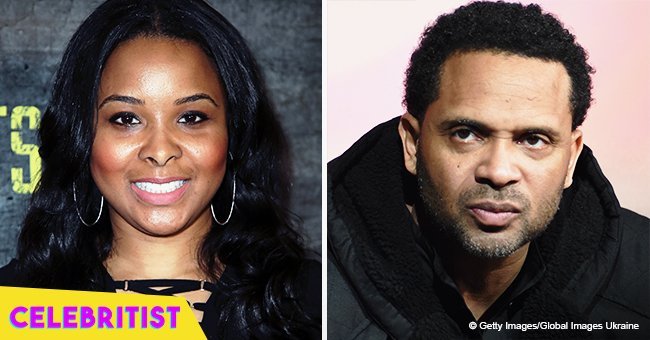 Mechelle Epps enjoys vacation by the sea after divorcing husband of 12 years
Mechelle Epps is living her best life after finalizing a multimillionaire divorce from comedian and actor Mike Epps. The beautiful mother of two shared some gorgeous pics of her vacation on social media.
Actress and businesswoman Mechelle Epps joined the stream of celebrities that flew to the European continent looking to spend a different summer vacation. The beauty is currently in Spain, where she has been soaking in the stunning sights and enjoying of the Mediterranean Sea.
Epps, who has built an active community with her fans through social media, took to her Instagram to share some photos from her trip. In a set of photos, she's sitting in the middle of the beach in Ibiza as waves revolt around her. In the distance, some boats add a picturesque feeling to the shot.
She also shared some knowledge about an iconic church in Barcelona, taking a selfie with the imponent building behind her and rocking her braided hair and charming smile. She captioned the pic:
"Sagrada Família is a large unfinished Roman Catholic church in Barcelona which began construction in 1882 and was interrupted by the Spanish Civil War. It resumed in the 1950's and has an anticipated completion by 2026 #art #Barcelona #history #culture."
Fans took to the comment section to share their thoughts on the picture. One user wrote "I love Barcelona!! And that church. Have an amazing trip," another added "Wow! Thanks for the history lesson," and a third one said "Looking just like your girls and young too."
Mechelle shares daughters Mariah and Maddie with ex-husband Mike Epps, with whom she finalized a multimillionaire divorce settlement last year.
According to TMZ, Mike was ordered to pay $25k a month in spousal support for six years, unless she gets married again. He also has to pay $15k a month in child support plus the bill for their private school.
Mike walked away with ten properties, while Mechelle earned a small fleet of cars and half of the royalties from Epps's films like "The Hangover," "Hancock" and "Girl's Trip."
Please fill in your e-mail so we can share with you our top stories!