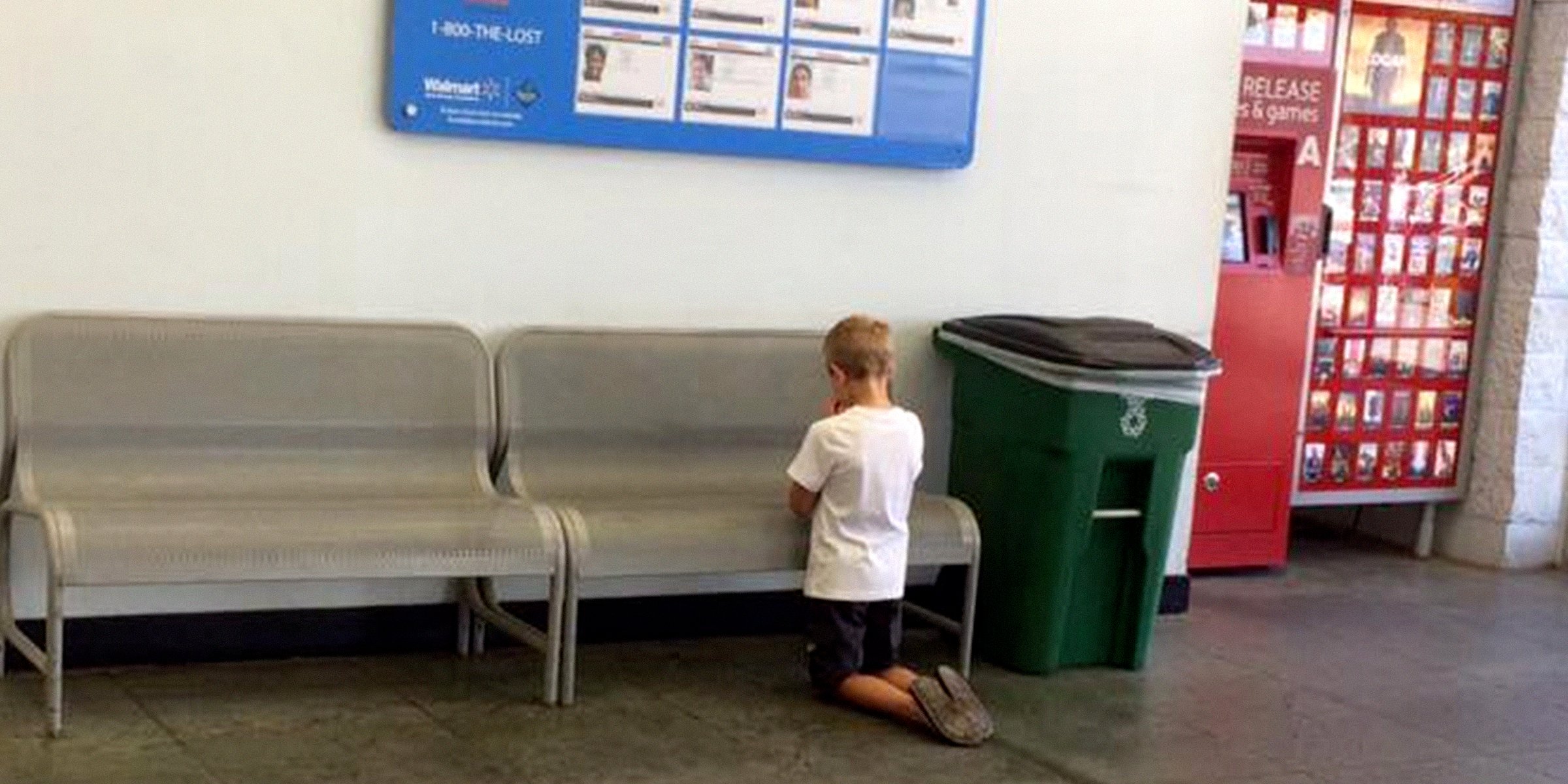 facebook.com/895kvne
Mom Turns around and Can't Find Son at the Store, Spots Him on His Knees in Front of a Wall

A mother went to Walmart for grocery shopping along with her son. While in the store, she turned around to make sure he was following her. When she didn't find him anywhere, her heart skipped a beat. A few moments later, she saw something astonishing.
Children view the world through their own lens and sometimes see things that adults tend to ignore or miss. Their playful and adventurous side enables them to explore their surroundings in a completely different light, thereby grooming their personality and adding to their experiences.
One thing that kids particularly enjoy is embarking on shopping sprees with their parents. While they may or may not be interested in helping their moms and dads with the grocery list, they enjoy stopping at their favorite aisles to spot toys, chocolates, and other goodies.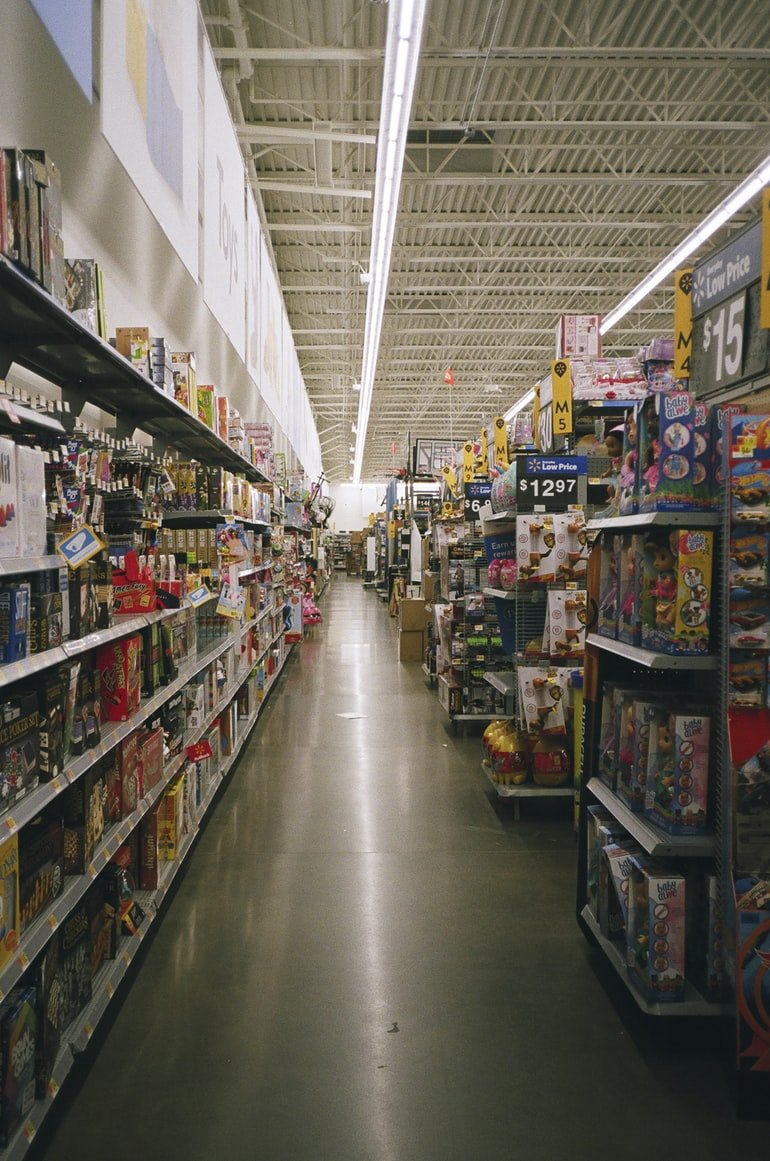 A grocery store with products placed in parallel shelves. | Source: Unsplash
Sometimes, children might get carried away glimpsing at their favorite things, while other times, they might stop to notice something interesting. Often, a parent's worst fears are realized when their kids suddenly let go of their hand and disappear.
SHOPPING TIME
The story we're sharing today revolves around a little boy and his mother, and we hope it'll warm your soul and help brighten up your otherwise gloomy day.
In summer 2017, a mother and son duo went to their local Walmart store for their usual grocery shopping. After some time, the woman stopped to check on her little boy, Braydon, and was utterly shocked to see he wasn't standing next to her.
NOWHERE TO BE FOUND
For a moment, the mother thought she had lost her son, and the mere thought of searching for him in a jam-packed store with several aisles terrified her. Still, she began looking and stopped at every corner to check if he was hiding somewhere.
When a Christian radio station in Tyler, Texas, shared Braydon's mother's post, it reached an even wider audience.
Despite her best efforts, Braydon was nowhere to be found. The distraught woman was on the verge of losing hope when she decided to recheck the store, and to her surprise, she saw a large board on the wall with the words "Every second counts" written on it.
A HEARTWARMING SIGHT
On the blue-colored board were pictures of pink-cheeked, innocent kids who had gone missing and needed to be reunited with their families. The mother had probably passed by the board before, but she stopped now because she spotted her boy kneeling in the kids' honor.
She was deeply moved and rendered speechless when she found her little angel on his knees, bowing down and praying for the lost children on the board. In fact, the proud mother was so profoundly impacted by her son's actions that she posted the story on Facebook. She wrote:
"I had to run into Walmart. I turned around to make sure my son was next to me. Instead of finding him by my side I found him kneeling in front of the missing children board praying. 💙😭🙏🏼. #amazing#trainupachild"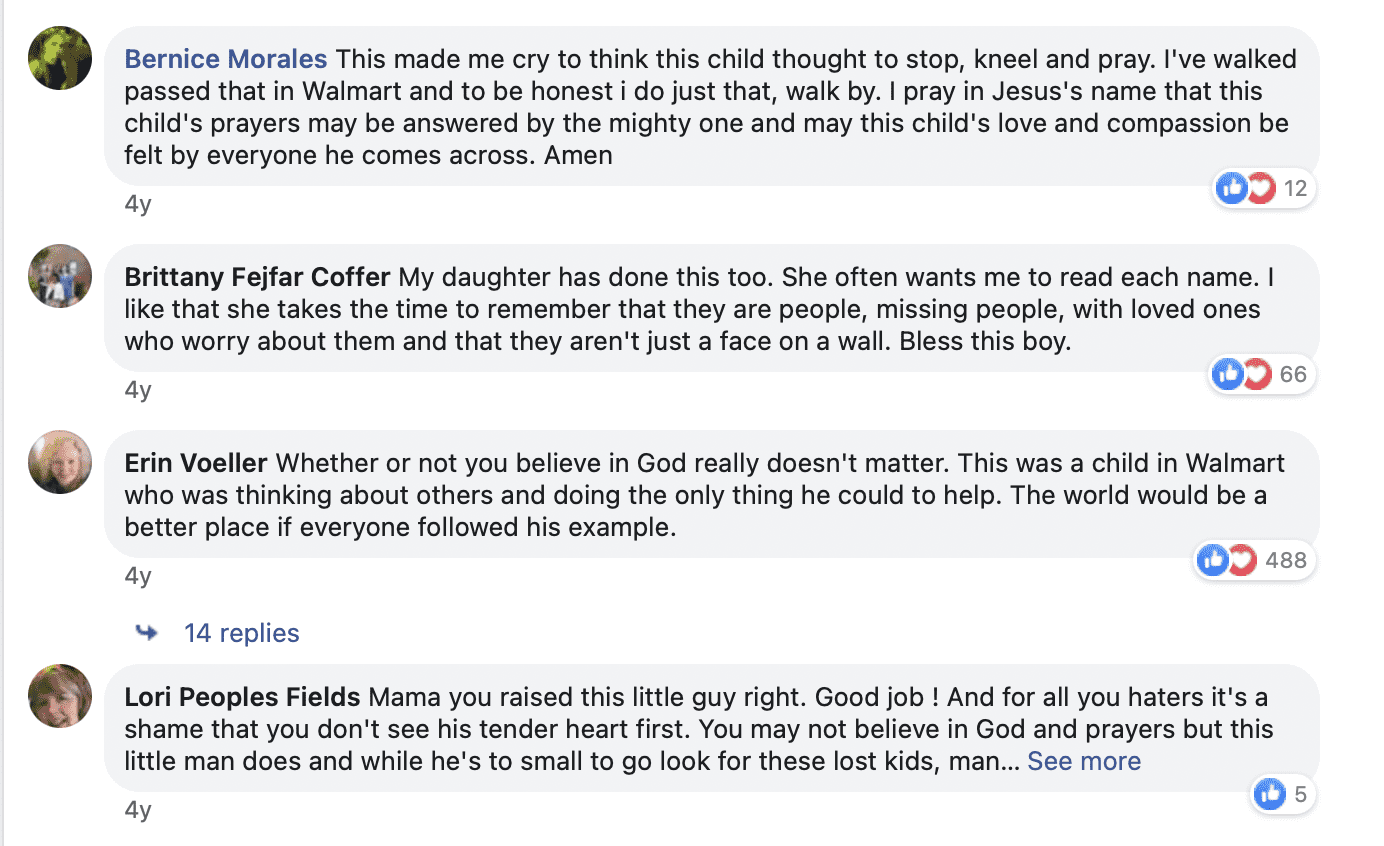 Netizens leave their comments on Braydon's mother's Facebook post. | Source: facebook.com/895kvne
THE VIRAL POST
The Facebook post was shared on July 18, 2017, and became an instant viral sensation, garnering immense love and appreciation from netizens far and wide. To date, the viral social media post has racked up over 107K reactions, 116K shares, and 10K comments. One person commented:
"What a wonderful thing to do! This little guy is wise beyond his years. God knows where these missing children are, and He will also bless the one who cared enough to pray for them."
A second user added: "Whether or not you believe in God really doesn't matter. This was a child in Walmart who was thinking about others and doing the only thing he could to help. The world would be a better place if everyone followed his example."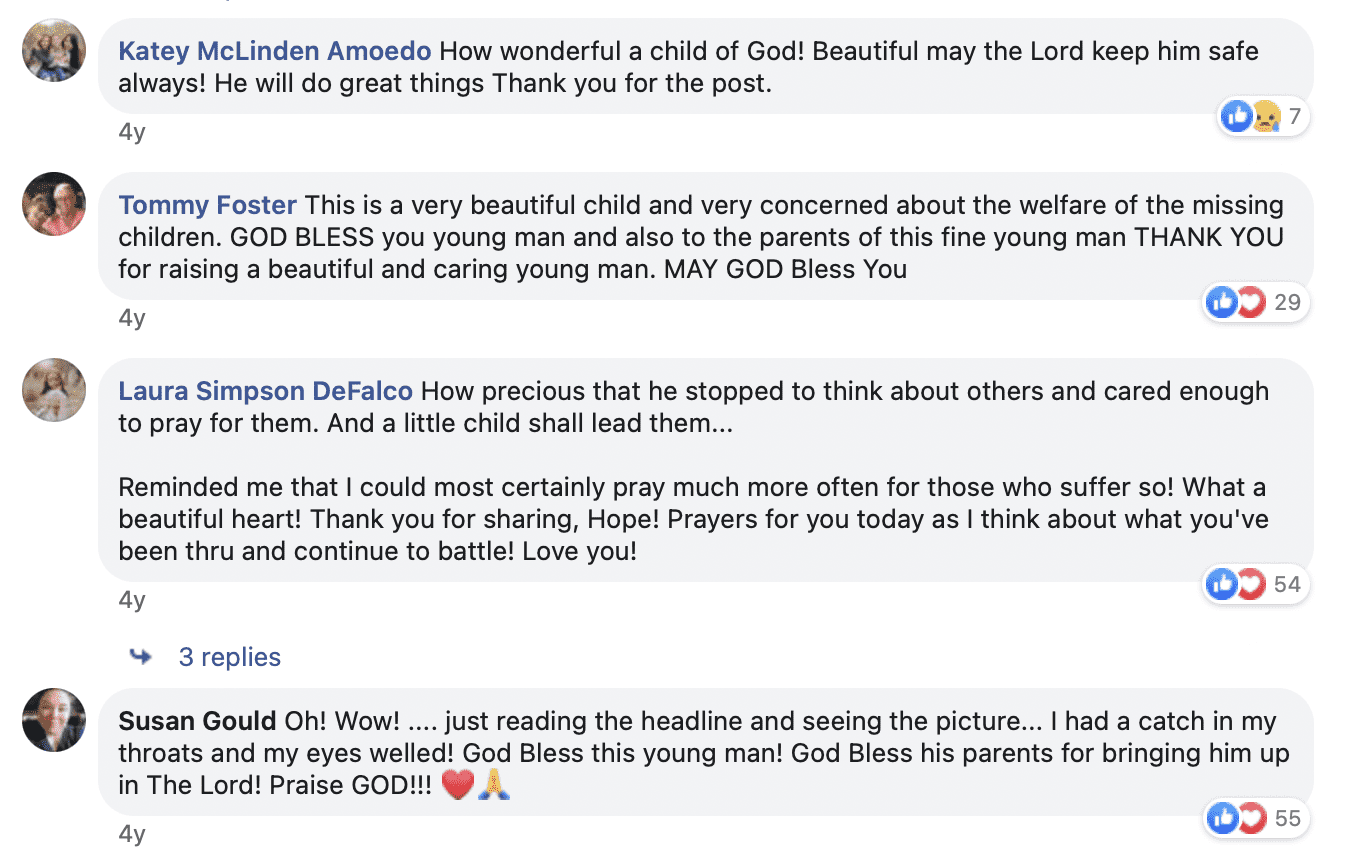 Netizens leave their comments on Braydon's mother's Facebook post. | Source: facebook.com/895kvne
A third user mentioned: "I don't even believe in God or organized religion at all but THIS child is so beautiful to have such a huge and caring heart!!! Way to go mom for raising a sweet compassionate and loving little boy!!!"
Some netizens also had differences of opinions, but the majority of them celebrated the youngster and hailed the mother's good parenting skills. Others were moved by Braydon's compassionate heart and showered him with love, despite not being too religious.
A CHAIN REACTION
When a Christian radio station in Tyler, Texas, shared Braydon's mother's post, it reached an even wider audience. In May 2019, another mom, Shanetta Rhodes, shared a picture of her boy following Braydon's example and praying in front of a similar board for missing kids in Walmart.
A TRUE INSPIRATION
According to the National Center for Missing and Exploited Children, almost 800,000 children go missing every year in the United States. The NCMEC reported over 1,300 attempted abductions in 2019, and about 68% of them involved a car abduction. Braydon's beautiful act might not bring back all the missing kids, but it has inspired us all.
People who believe in miracles and the power of prayers will agree that, sometimes, when nothing makes sense, faith helps navigate the darkest of times. There's always a light at the end of the tunnel, but only those who choose to stick around till the end are able to see it.
We can only guess how much Braydon's mom would have hugged and kissed him after he was done praying for the innocent kids. If you loved reading this phenomenal story of love, kindness, and compassion, please share it with your family and friends.
Please fill in your e-mail so we can share with you our top stories!