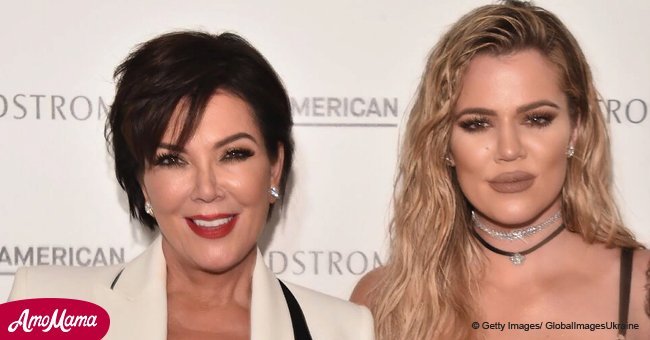 Khloé Kardashian's mother wants her to 'gain 80lbs'
On a Sunday teaser for "Keeping Up With The Kardashians," Khloé Kardashian revealed that her mother, Kris Jenner, had wanted her to gain weight before giving birth.
During her pregnancy with True Thompson, Khloé Kardashian, 34, seemed to feel bullied into eating by her mother, Kris Jenner, 62. A recent teaser showed one scene where the pair was in the kitchen together.
When enjoying a plate of pasta, Kardashian can be seen saying, "You know I can't eat all this." Later on, she complains that her mother has made "the heaviest pasta dish with so much oil in it."
For more on this story go to our Twitter account @amomama_usa. During a doctor's visit, she's seen complaining about her mother again.
This time she states, "She wants me to gain 80lbs!" Then adds, "I love my mom but she's a psychopath."
In an earlier teaser, Tristan Thompson's girlfriend was highly disappointed by a surprise gift that her mother brought for her. The clip showed Jenner walking into Kardashian's Calabasas, California mansion.
She tells her daughter, "I brought you a surprise. This is your lucky day. It's Krispy Kreme day, to celebrate the pregnancy of Khloé Kardashian!"
"I can't eat 8 dozen donuts," screamed the star. The momager didn't just bring eight donuts but she brought eight boxes of the confectionary.
In an interview later, Kardashian recalled a bad memory related to her mother's pregnancy when she was a child.
"I remember back when my mom was pregnant, she and Bruce almost got a divorce because Bruce would not pull over to get 2 dozen donuts," the star shared.
She remembered him telling her that she didn't need them and the pair started yelling at each other. In the end, Jenner got her way as her then-husband caved in.
Kardashian revealed that her mother ate each donut on her own and her daughter found it disgusting. Jenner told Kardashian that she wasn't "enjoying her pregnancy" because she was avoiding treats.
The star snapped at her mother telling her that she wasn't depriving herself and could eat a cookie if she wanted to. She shared that she was following doctor's orders as she didn't want to be forced into having a C-section.
Kardashian explained that her mother wanted her to do things her way and when she refused to, Jenner would think something was wrong with her.
Please fill in your e-mail so we can share with you our top stories!