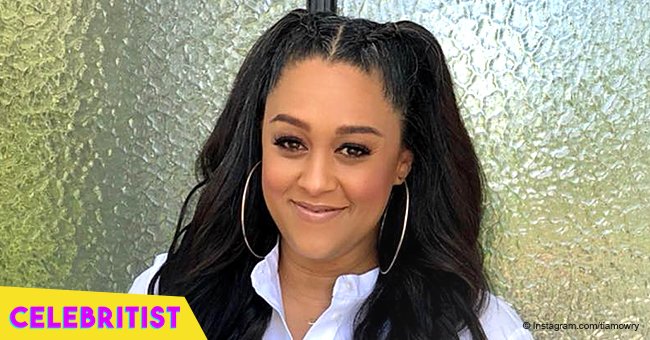 Tia Mowry warms hearts with morning spit up photo of daughter Cairo

Actress and TV host Tia Mowry, best known for "Sister, Sister," took to Instagram to share a photo of herself and her baby daughter right after spitting up.
The image portrayed Tia wearing a black shirt and looking directly at the camera with a couple of drops of the white fluid on her forehead. Right next to her, Cairo was sitting in a white onesie also looking at the camera with spit-up on her mouth.
For the caption, the proud mother wrote that they had woken up like that. While the whole spit-up situation was interesting, the aspect that attracted more attention was the priceless expression on Cairo's face.
As soon as she uploaded that picture, her fans and followers took to the comment section to share their thoughts.
One of them was Instagram user Kia Mackey, who thanked Tia for sharing how real motherhood looked like. She added that that is part of being a mother and that those are fond memories.
WHAT IS A SPIT-UP?
According to Similac, it is also called reflux, and it is the flow of food from the stomach to the mouth. While some mothers might get worried the first time they see it, the truth is that it is not painful and it might repeat up until the baby is one year old.
CAIRO AND HER UNIQUE NAME
About eight weeks after Tia gave birth to her daughter, she revealed her name – and her first full-photo – to the world in a video posted to her Facebook page. In it, the actress pointed out that her husband, Cory Hardrict, saw the letter A, I, and R while on a plane, so it was like a sign that the name of the baby should have those letters.
For that reason, the chose Cairo, which also means "victorious." About the baby's second name, Tiahna, Tia revealed that, apart from having her own name, it meant "follower of Christ."
Finally, she pointed out that "Tiana" was the name of one of the first African princesses, so Cairo was the family's little princess.
Tia and Cory welcomed their daughter to the world on May 5, and only one day later, the proud mother uploaded a photo saying that her baby was six pounds and four ounces, and 19.8 inches.
Please fill in your e-mail so we can share with you our top stories!