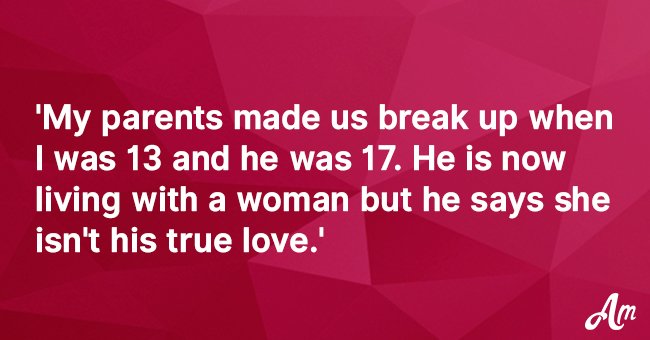 I have been seeing a man after us finding each other on Facebook after 49 years!
The following letter has been edited for clarity and coherence.
Dear AmoMama,
I have been seeing a man after us finding each other on Facebook after 49 years! My parents made us break up when I was 13 and he was 17.
He is now living with a woman who he says he loves as a friend but isn't his true love. He said I am his true love. But after three years, he said he cannot afford to move out on his own, and it will happen, although it won't happen now.
I am still by myself on weekends and every holiday! He said he loves me with all of his heart, and his mother died one month ago.
He said he is not sure what will come out of it financially, but maybe he would be able to move out and buy another place. What do I do??
He is truly my true love. And my heart aches because he is home by 4:30 each day because she is home by 5.
Some days he has to be home earlier if she is getting off early! Every Sunday she goes to church and he can call me while she is gone.
The rest of the day they spent together and according to him he would rather be with me but he has never been with me on a Sunday!!
Help am I hanging in there for a lost cause? I need to know because my heart is with him but I don't want it trampled on. What do I do? Do I give him an ultimatum?
Do I accept what he tells me and see if it lasts another 2 years? Which would make 5 years total and I think personally that is a bit much. Please help me out!
_______________________________________________________
Dear Subscriber,
Is it trully love you feel for this man, or is all nostalgia from your first real love? Only you can know how you trully feel and can judge the situation, but it does seem that you are in the classic "other woman" situation.
This man is with a woman he does not love for financial gain. He says they are just "friends" but he toes the line like a very married man, and only calls you when she is at church. You don't explain but it sounds as if he doesn't work...
Are you willing to wait another 5 years, 10, 20? Can you afford to waste any more time on someone who can't commit to you?
You need to sit down with this man and demand some answers. You are giving him all your love, your dedication, and he gives you crumbs of his spare time. You deserve more from a better man.
Be strong, be happy, be yourself.
Do you agree with our advice? What do you think this subscriber could do to solve her problem?
If you need help or advice, reach out to us, and thousands of women just like you who are struggling with the difficulties of life. You are not alone, we are here for you, and we listen; so write to us anonymously using this form.
Please fill in your e-mail so we can share with you our top stories!