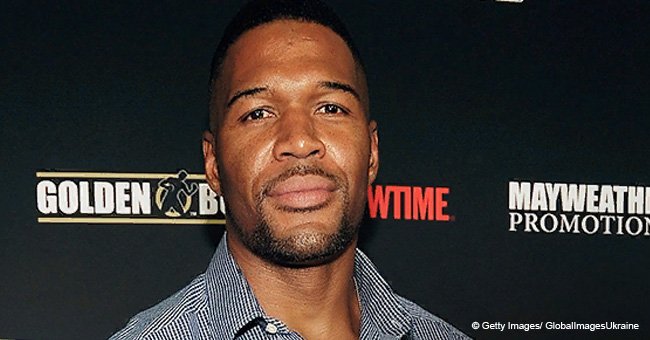 Michael Strahan steals hearts with new family photo of all his children
Former NFL player and "Good Morning America" co-host Michael Strahan, is known for being a pretty hands-on father, even though he's no longer with any of his kids' mothers. In a recent picture posted to his social media, the proud father posed with his four kids.
Michael Strahan is a family man, and his Instagram account is the proof of that. The former football star is the father of four beautiful kids. He shares son Michael Jr., 23, and daughter Tanita, 26 with his first wife, Wanda Hutchins. And 13-year old twin daughters, Sophie and Isabella, with ex-wife, Jean Muggli.
In a recent pic from the Strahan family vacation, the four siblings took either side of their father as they posed in front of the ocean wearing summery clothes and bright smiles on their faces. "What it's all about," Strahan wrote in the caption, earning praises from his followers for having such a good looking family.
Fans took to the comment section of the TV personality to share their thoughts on the picture. One user wrote "Very nice picture. You have a beautiful family. May God bless you and your family," and another added "Beautiful Family, Michael. You two baby Girls sure are growing. About as tall than you. Nothing like Family."
Speaking to People magazine about the struggles of raising his kids while being separated from their respective moms, Michael confessed that:
"I think a lot of times when you split, people assume that the mother is supposed to take responsibility for the kids. But from day one, it was very important for me to be active, to be a part of their life."
And continued:
"I was constantly on planes and phones. And it's very hard – of course, it's hard with them being in Germany. But one thing I learned is, you make time for what you want to make time for."
The 46-year-old also revealed that one of the biggest lessons he has learned in life came from his kids.
"Sometimes life gets serious for us as adults, but looking at my kids, it lets me know that you're allowed to have fun — you're allowed to have mindless fun," Strahan told People. "And you're allowed to be yourself and act like no one is watching."
The former "Live with Kelly" co-host also emphasized the importance of instilling respect for others and oneself in his kids. That, and being able to laugh, has made his relationship with his family a thousand times better.
"I want them to have fun around their family and their dad," he says of his kids. "I have fun with my dad still. I think [it's] important for them to see that: No matter what age, laugh."
Please fill in your e-mail so we can share with you our top stories!