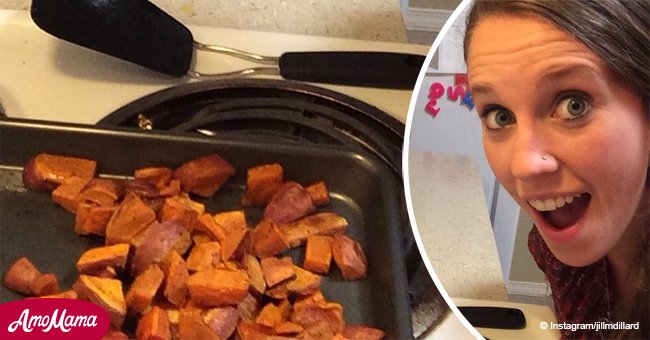 Jill Duggar under fire over simple sweet potato recipe
The reality television star has been keeping up her online presence lately, and has been enjoying sharing recipes with her followers on her website.
Jill Dillard of "Counting On" has been busy of late. Not only is she a loving wife and doting mother to two young boys, but she's also been making sure her and her husband Derrick Dillard's family blog gets plenty of updates on a regular basis.
Among those updates the 27-year-old has been posting plenty of her own recipes, which she often also shares to her social media accounts.
She recently posted a photo to Instagram of her sweet potato fries, but quickly got flak for them in the comments section of the post.
A happy Jill was peeking into the corner of the image, mouth wide open in excitement as she leaned over the tray of sweet potato fries.
"Super excited about these baked sweet potato fries! #gardentotable We didn't get as many as I'd hoped, but the ones we did get are great!! #mythumbisntasgreenasmysisters BTW, the sweet potato fries recipe is on our website in the recipes section!" she wrote.
In 5 days, the post was liked almost 35,000 times.
But the comments section speaks volumes on what people think of Jill's cooking skills, with a number of people pointing out the sweet potato don't exactly make the cut.
"Those don't look like fries," wrote one, with another adding: "Those look like roasted sweet potatoes, not fries."
It's not the first recipe Jill has been criticized for either, with her chicken salad receiving probably the harshest criticism of all.
Another recipe that has fans wondering about Jill's cooking ability was her tater tot casserole, which included such ingredients as ground turkey, a bag of tater tots, evaporated milk, and two different soups.
Please fill in your e-mail so we can share with you our top stories!