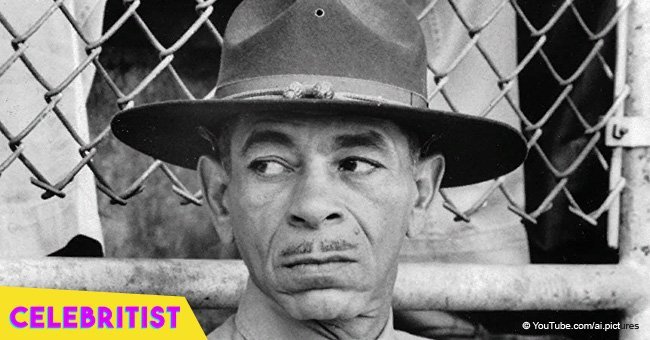 Remember 'The Color Purple' actor Adolph Caesar? He's survived by son & daughter who looks like him
Adolph Caesar's passing may have gone unnoticed by many, but his life, especially his acting, moved the masses.
Adolph Caesar had a small but dramatic role in the Steven Spielberg film "The Color Purple" playing Old Mister, the aged father of the bullying husband of Celie, the main character. The character of Celie was brought to life by Whoopi Goldberg while Danny Glover played her abusive husband.
Caesar also played a hard-edged, self-loathing, black soldier in the Pulitzer-winning drama, "A Soldier's Play," which earned him an Oscar and Golden Globe nod.
A longtime member of the Negro Ensemble Company, Caesar had worked in theater for years before public recognition came after his gruff portrayal of Tech. Sgt. Vernon C. Waters in "A Soldier's Play."
The unique, gravelly nature of Caesar's voice supported him throughout his life by giving him jobs as a voice-over announcer and doing commercials for Certs, Renault, Nikon and many other companies.
He also did the voice narrations for two PBS documentary series: "Men of Bronze" and "I Remember Harlem."
Born on December 5, 1933, in Harlem, New York, Caesar attended George Washington High School before joining the Navy. After his military service, he attended New York University where he studied Dramatic Arts.
In 1986, Caesar suffered a heart seizure while filming "Tough Guys," which starred Kirk Douglas and Burt Lancaster. He passed on a short time later in a hospital emergency room.
Caesar is survived by his wife, Diane, two daughters, Tiffani and Alexandria and a son, Justan.
Justan took after his father and also joined the Navy.
Burt Lancaster and Kirk Douglas released the following statement after Adolph's death:
"Of course you're never prepared for such an event. We both admired Adolph as an actor, and in the short time we worked together, we both like him as a man filled with humor as well as talent."
Please fill in your e-mail so we can share with you our top stories!