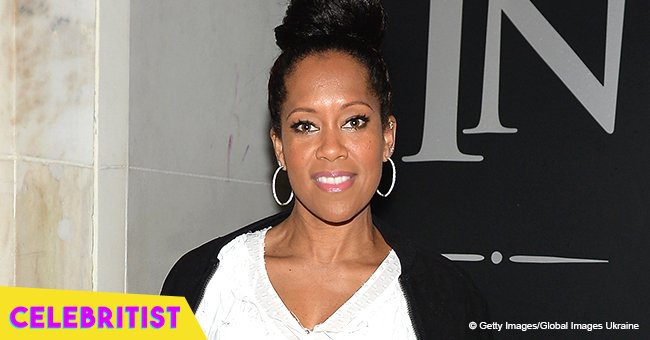 Regina King flashes some skin in strapless orange dress in pic with Lena Waithe
Regina King flaunts her amazing body as she wears a strapless skintight dress for a recent event. The fit actress has just earned herself an Emmy nomination for best actress for her portrayal in 'Seven Seconds.'
Regina King is stunning in one of her latest photos on her Instagram where she flaunts her perfectly toned body in a strapless orange dress. The award-winning actress was one of the attendees at the Hollywood Foreign Press Association's Grants Banquet this year and she was dressed to impress.
It's no secret Regina takes good care of her body. Because she has a family history of heart disease, she herself was diagnosed with hypertension in her 20's, she makes sure she stays fit. When she was in high school, she was into track and field which kept her blood pressure down. But when she learned of her hypertension in her 20's, she became devoted to working out.
According to the 'Seven Seconds' star, she would bring exercise equipment in her car and head to the gym any chance she gets. She lifts weights and takes kickboxing classes. In addition, she annually cleanses her system by doing a detox for two weeks. This would mean eliminating sugar, processed food and simple carbs from her diet. During these two weeks, she would normally lose 7-10 pounds.
That being said, it's no surprise Regina looks amazing in her latest photo. Her skin-tight orange dress highlights her curvy figure resulting from her rigorous fitness regime. She posed alongside Lena Waithe and a male friend and captioned her photo,
"For the culture... for the arts. HFPA grants dinner #queensugarown#thechishowtime #sevensecondsnetflix"
Regina's four-decade career is a testament to her acting prowess. She's amassed a multitude of awards and nominations portraying one of the most memorable characters on both film and television. From her roles in 'Boyz n the Hood,' 'Poetic Justice,' 'Jerry Maguire,' and 'Ray,' to her lighter roles in 'Legally Blonde,' and 'Miss Congeniality, she's managed to make her mark. On the small screen, she also shined in "Southland,' 'The Boondocks,' 'The Leftovers,' 'Shameless,' and her Emmy award-winning performance in 'American Crime.' Apart from her acting, she also directs. Her directorial credits include episodes in 'Green Leaf,' 'The Good Doctor,' and 'This is Us.'
Today, Regina again surprises fans with her portrayal as the grieving mother of a teenager who died of a fatal hit-and-run in 'Seven Seconds.' For the first time, she's competing in the lead actress category in the Emmys for her powerful performance in the show. Regina is anxious about her latest nomination but is grateful for the chance to tackle a social issue on the show and represent other mothers who've been through her character's ordeal. She told Deadline,
"I'm a face for 1000s of mothers, unfortunately. It's sad that I can even say that. But I am representing all of them. That was a big responsibility to me."
Regina is divorced with one child – an adult son she named Ian Alexander, Jr. after his father, Ian Alexander. The mother and her 22-year-old are so close that they even have matching tattoos written in Aramic and which mean "unconditional love.' Regina opened up about this during an interview in 'The View' in 2017. She showed the tattoo which was imprinted on the lower part of her arm. Meanwhile, Ian's is a larger version scrawled across his upper arm and over one shoulder.
Please fill in your e-mail so we can share with you our top stories!