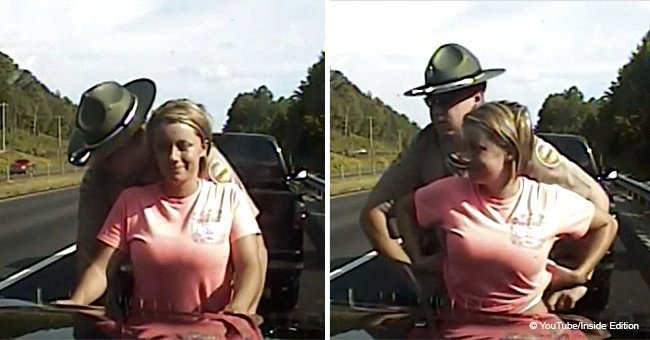 Woman sues trooper after dash cam footage shows him allegedly groping her

The woman sued the trooper for $100,000 after he allegedly groped her when he asked the woman to step out of the vehicle, as shown in the dash cam footage.
In August 2017, Patricia Wilson was halted by a trooper named Isaiah Lloyd after he saw her not wearing a seat belt.
Lloyd asked Wilson if she was on drugs or if she had illegal substances in her person. Wilson said she never took drugs and she didn't have any in her possession.
Lloyd then asked her to step out of her vehicle.
Follow us on Twitter at AmoMama USA for more details and updates
Wilson was taken to the trunk of the trooper's car where she was asked to lean forward while he inspected her body to check for any sign of drugs in her possession.
According to WVLT-TV – a CBS Knoxville affiliate, Lloyd made Wilson lift up her shirt, and he felt around her waistline. He also allegedly had his hands in her underwear. Wilson's lower half of her body was not seen on the dash cam footage.
In the end, Lloyd ticketed Wilson for not wearing her seat belt. Reports revealed that the district attorney's office later dismissed the pending violation.
After the incident, Wilson went to work. Three hours later, Lloyd made Wilson pull over again. On the second time, the woman had her two children in the vehicle, according to the lawsuit.
Allegedly, Lloyd told Wilson, "We have to stop meeting like this."
The lawsuit was filed in early January 2018. According to the DA's office in Tennessee, the trooper's actions were "inconsistent with his training."
"Our review of this matter revealed that Trooper Lloyd's actions were inconsistent with his training and Tennessee Department of Safety General Orders," as stated by the Office of the Eighth Judicial District Attorney General's office.
Although, they added that they believe Lloyd's actions do not "form the basis for any criminal charge against him."
Despite what the DA's office said, Wilson insisted in pushing through with the lawsuit.
Meanwhile, another groping incident happened at a restaurant in Georgia. A male customer groped a waitress, but the woman stood up for herself and fought back.
Please fill in your e-mail so we can share with you our top stories!