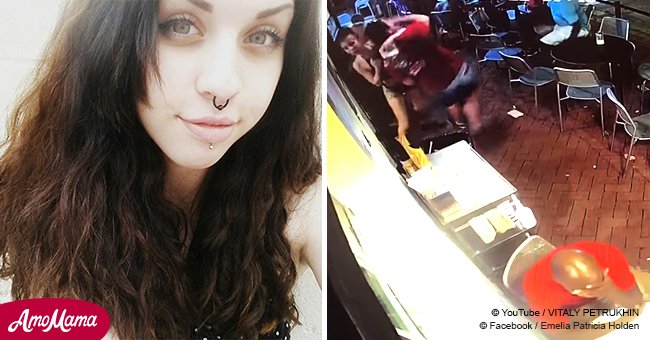 Security video shows waitress throw off rude customer who groped her

31-year-old Ryan Cherwinski was expecting a good service when we walked into Vinni Van Go-Go's restaurant in Savanah, Georgia. But things turned out differently.
The CCTV footage of the store revealed that Cherwinski's indecent behavior towards waitress Emelia Holden did not go unpunished.
On June 30th Ryan strolled into the restaurant and on his way in groped a waitress as he walked past her. The waitress was finishing taking the order of another customer and was walking away when the incident happened.
Emelia Holden did not appreciate the behavior and took the chance to teach him a lesson. She grabbed Cherwinski and slammed him onto the counter with immense force. Read more about the brave Emelia Holden on our Twitter @amomama_usa.
In an interview with People, Holden mentioned that she looked at the adventurous customer and yelled at him, 'you don't touch me!' Holden was surprised at her response. Holden confessed that she has never reacted like this before.
Holden mentioned when she felt the touch she thought it must be one of her friends. Holden was stunned that it was a stranger who had done this.
After the incident, Holden asked her colleagues to call the cops. After the officers saw the surveillance footage, they took Cherwinski into custody and charged with him 'sexual battery.' Cherwinski spent two days in jail.
While Cherwinski claimed that he was just trying to push Holden out of the way and 'barely' touched her, the cops saw a different version on the video.
The waitress added that she was 'very fortunate' to work in an organization that supported women and encouraged a healthy work environment. She was grateful for not being punished after putting her hands on a rogue customer.
While Holden admitted that the incident was unfortunate, she was glad to send a positive message to the public with her intolerance to indecency.
Please fill in your e-mail so we can share with you our top stories!