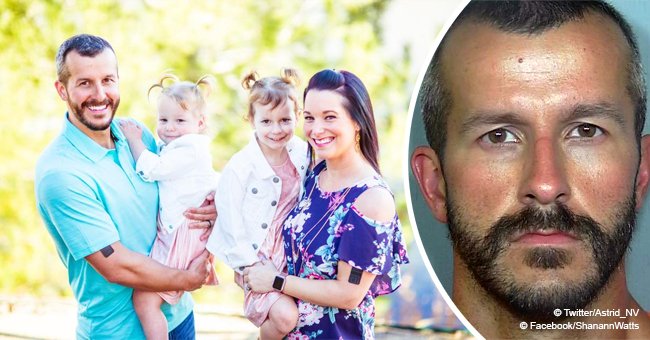 Man accused of murdering pregnant wife and young daughters says wife killed the children
An affidavit has now been released which gives more information to the three Frederick murders. Shanann Watts and her two children, Bella and Celeste were initially reported missing on August 13.
Her husband, Chris Watts was arrested two days later in connection with their case. However, now he's claimed that his wife was the one who killed their children.
An affidavit released on Monday stated that Chris Watts, 33, said he and his wife, Shanann Watts, 34, had spoken about him wanting to separate because he was having an affair with a co-worker. The conversation took place on August 13 in the early hours of the morning after she got back from a business trip.
Chris shared that he "walked downstairs for a moment" and when he got back to their bedroom he saw, via a baby monitor, that daughter Bella, 4, was "sprawled" and "blue" on her bed. She was already dead according to the suspect.
For more on this story go to our Twitter account @amomama_usa. Shanann was alleged to be "actively strangling Celeste," according to the affidavit.
Chris strangled his 15 weeks pregnant wife in a rage after he saw her strangling their daughter Celeste, 3. He then buried his wife near two oil tanks and dumped his daughters' bodies in the tanks at an oil site owned by the company he once working for.
Despite his testimony on Monday, Chris was charged with three counts of first-degree murder in the deaths of his wife and young daughters. Two additional first-degree murder charges accused him of causing the death of a child younger than 12.
Weld County District Attorney Michael J. Rourke shared that Chris also faced three counts of tampering with a body and one count of first-degree unlawful termination of a pregnancy. He is being held without bond and his next court appearance was scheduled for Tuesday morning.
Before the suspect made his confession, authorities used a drone that spotted a bed sheet in a field near the oil tanks.
"The sheet matched the pattern of several pillowcases and a top sheet recovered from a kitchen trash can from [Watts'] residence early that day," the affidavit said.
Shanann's father, Frank Rzucek Sr., thanked authorities for finding the bodies of his family members. He said the family appreciated those who attended a candlelight vigil and expressed support.
"Keep the prayers coming for our family," he said.
Shanann and her daughter's bodies were found a day after her husband was arrested. Her body was in a shallow grave near an oil tank.
While her children's bodies were in an "oil well filled with crude oil for several days." A judge denied several defence motions, including a request to require pathologists to swab the little girls' necks, throats and hands for DNA.
Nicole Atkinson was Shanann's friend who went on the trip with her and reported her missing when she couldn't get a hold of her on August 13. Court papers showed that the Watts had faced financial problems in recent years and filed for bankruptcy in 2015.
Their homeowner's association, Wyndham Hill Master Association, recently sued the couple, saying they owed $1,533.80, according to a civil suit.
Please fill in your e-mail so we can share with you our top stories!