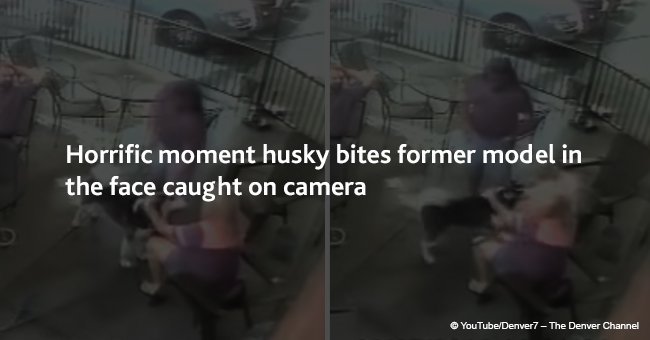 Horrific moment husky bites former model in the face caught on camera

A couple of people were enjoying a nice time outside a restaurant when a husky bit a woman in the face, after which its owners quickly fled the scene.
The incident took place on August 7, 2018, at Rockabillies Bar & Grill in Arvada, Colorado, and the images were captured by the restaurant's surveillance cameras.
The video of the attack found its way to the internet and it can be seen on Youtube and, although they left the area, police were able to identify the dog's owners.
The video seemed to be quite normal at first, just a group of people sitting outside the restaurant while the husky was being petted by its owner, whose identity is yet to be released.
Please follow us on our Twitter account @amomama_usa to learn more
ANIMAL BEHAVIOR
Usually, dogs are very social animals and they have a great time when people try to interact with them, but that clearly wasn't the husky's case.
The animal's posture revealed that it was tense and its tail wasn't wagging while having its ears scrubbed; plus, it appeared to be quite anxious. When a blonde woman started petting him, putting her face close to its snout, the dog delivered a quick bite.
OWNERS DIDN'T STAY
It was a lightning-fast attack but enough to leave the unnamed woman, who is reportedly a former model, with serious facial injuries. She later required eye surgery.
The dog owner and her boyfriend immediately rushed to the victim after seeing their dog lash out at her, but were caught by the cameras grabbing the leash and fleeing the restaurant without leaving any contact information.
A SPEEDY RECOVERY
David Snelling, a spokesman for the Arvada Police Department, shared that the victim is currently doing well and has already returned to work at a local Sam's Club.
Jim Nigg, the restaurant's owner, told KMGH that the animal was a foster dog and that its temporary owner was thinking about adopting it.
WARNING ABOUT DOGS
Despite the serious injuries suffered by the victim, the woman, a fierce animal lover, doesn't wish the dog to suffer any consequences.
Ever since the incident took place, the Rockabillies Bar & Grill has put up a sign that reads, 'Due to liability of this establishment, no dogs on the patio.'
Although they're seen as pets, dogs can be quite vicious and dangerous. Back in May, Tracy Garcia, from Ardmore, Oklahoma, was mauled to death by seven of her neighbor's dogs, which were all put down as requested by their owner.
Please fill in your e-mail so we can share with you our top stories!